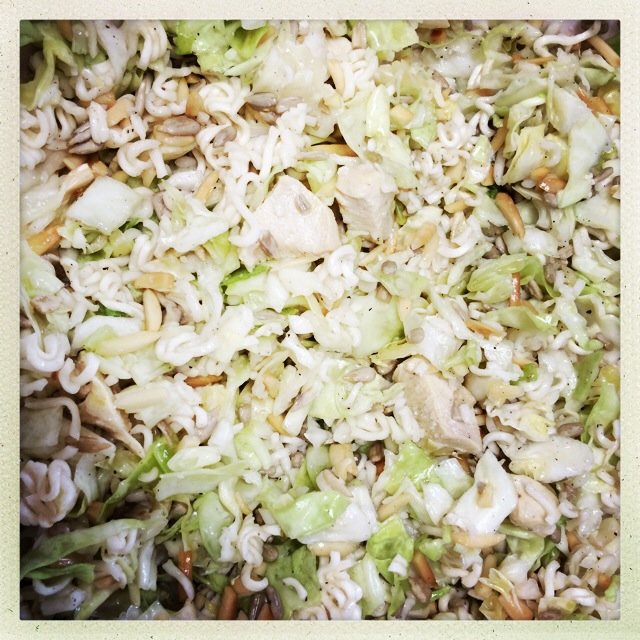 Teri's Ramen Noodle Salad
Ingredients
1 head cabbage, finely chopped
5 green onions, diced
2-3 ramen noodle pkgs., smashed up (discard flavor packet)
Pulled/cut-up chicken
1 cup of raw sunflower seeds
1 tbsp. sugar
Salt and pepper to taste

Dressing:

3/4 cup olive oil
1/2 cup sugar
7 tbsp. rice vinegar
2 cups of toasted, slivered almonds (see instructions below)

Alternate dressing:

1/2 cup olive oil
1 cup sugar
1/2 cup vinegar
2 tsp. soy sauce
2 cups of toasted, slivered almonds (see instructions below)
Instructions
To make the almonds, put olive oil on a cookie sheet then place almonds.
Coat almonds with a small amount of oil and broil until toasted.
Toss all non-dressing ingredients together.
Refrigerate over-night (unless it is the day the salad will be used).
Add liquid ingredients (dressing) and nuts before the salad is served to prevent the salad from becoming soggy.
Enjoy!
Notes
This salad can be made a variety of ways and with a variety of dressings. We have listed 2 options for dressings but more can be found online. This salad is another family favorite and goes so fast that we usually have no leftovers!
http://yourgoldenticketblog.com/2014/08/teris-ramen-noodle-salad/