I've got a real treat for all of you! I am an artist and designer, so one of my favorite hobbies is to collect art everywhere I go; from other countries, from fellow students; anywhere I can (when it's good). I have cases of artwork that are all unique, colorful, and show such talent. Instead of presents for my birthday and Christmas, I usually ask for handmade cards and artwork from friends, and you'd be surprised at the amazing, unique art my friends can make. I honestly do this because it's amazing to receive sculptures, pictures, drawings, paintings, etc., from people you know and love.
So I find myself at art shows and galleries very often (at least once a month) and I happened upon an artist I really loved. She is also a fellow Aggie from Utah State, where I studied. What are the odds? AND her artwork is so amazing! I love the animal prints she creates, but instead of boring wildlife I've become accustomed to, she creates her pictures with bright, fun colors most people would not expect. Some are made with bright neon colors and others are mellow but still beautiful. All are professional and I can see them anywhere from in baby rooms to professional offices, to studios or put up on a friend's wall. If you love art or want to spice up some rooms in your house, I definitely suggest this artist.
Some of her work has even been commissioned and painted in Salt Lake city, such as her rainbow giraffe on a city street corner.
What's even better about this artist is that we're giving away a sample of her artwork
: a photo, keychain, and tattoo. I would definitely check out her Etsy, her blog, her website, etc. If you don't see something you particularly love, she can create a new piece of art just for you. Who wouldn't love that? AND it's just in time for Christmas. So visit one of her sites, follow her, and get some amazing artwork if you can! I checked out her Etsy site and wanted literally everything that was there. Not even kidding. So enter our contest and maybe you'll snag a picture!

A little bit about Jenn from http://jennseeleyart.com/:
"Jennifer Seeley is a painter exploring ideas of expression and color. She lives in Utah and continues to reside and work there. She recently graduated with her Bachelors of Fine Arts with a double emphasis in Art Education and Drawing/Painting from Utah State University. She has received many scholarships; most notable is the National Horatio Alger, designed for individuals who have shown perseverance in overcoming adversity."
"She enjoys and finds inspiration in simple things like nature walks, volleyball and outdoor adventures. If you're a local of SLC you may have seen her work at Mod-a-go-go Gallery, Alpine Art Gallery, art shows like the Urban Arts Festival, Ogden Arts Festival and Gateway Chalk Art Festival, or on the streets of SLC where she has two of her works on utility boxes. She is expanding her work to shows in Colorado, Wyoming, California, and Idaho…"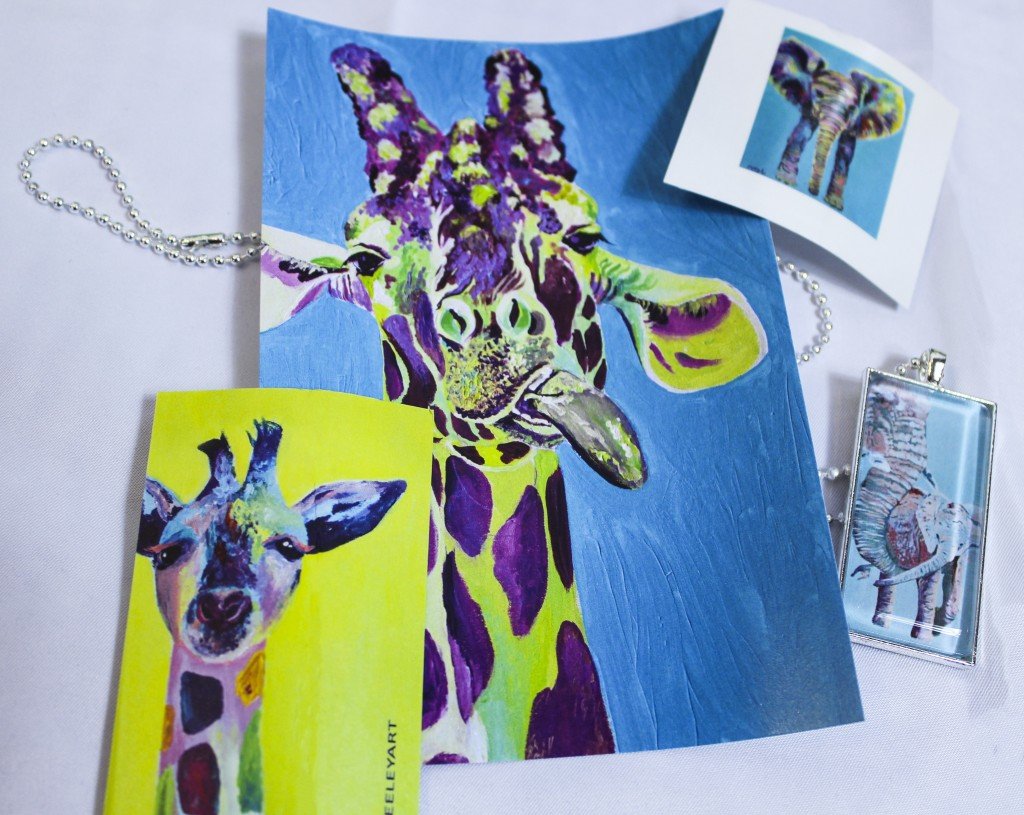 Thanks to Jenn Seeley for the products for this post! My opinion is 100% authentic and honest.
Check out her sites:
http://jennseeleyart.com/
http://jenniferseeleyart.blogspot.com/
https://society6.com/jennseeleyart
https://www.etsy.com/shop/jennseeleyart
An Example of her Etsy shop: