Like I've said before, I am a huge fan of adding olive oil to my diet any way I can. It's such a healthy alternative to butter and when I heard of the Benissimo Flavored Oils, I couldn't wait to give them a try.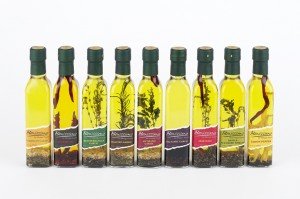 Benissimo Flavored Oils , which dates back 450 years ago to a farm in the Austrian Alps. I love a company with a rich history, you can just taste their quality. While the Hongar Farms date back many centuries, their "flavor infused oils" were created within the 19th and 20th century. Their products are 100% natural with no artificial flavors or coloring and no perservatives, sodium or cholesterol. They've been manufucturing products in the United States for nearly 10 years, primarily on the east coast and meet or exceed the FDA requirements (along with having been tested by the Georgia Food Products Division).
You can tell that quality and using the healthiest and freshest ingredients is part of this company's tradition.
I can tell you this – it didn't take long for this bottle of Benissimo Flavored Oils to get eaten up in my house. Especially considering this flavor was Mediterranean Garlic (remember my comment about not dating vampires? Yeah, this is further proof that my relationship with one would never work out. I love garlic).
I was a little hesitant about using this because of it using canola oil in the ingredients list. But since that is such a common ingredient to use when I cook and use recipes, I couldn't wait to give it a try. I gave this a try as a dipping oil for breads and salad dressings, but then I also gave it a try for cooking up vegetables (nothing fancy but I usually love to cook grilled peppers or broccoli or Lima beans).
I thought this was an excellent addition the vegetable dishes I made, and I would highly recommend cooking with this ingredient. It didn't seem to work so good with salad dressings but it completely enhanced the flavors of veggie dishes! My next challenge is to cook this with meats and see what might work best. I would say this works best as a cooking olive oil rather than used for dressings on salad. I would say that because the flavor is rich enough to pull off use in cooking, which I am so glad for!
Better yet, these oils make excellent gifts for the foodie in your life. The prices listed on their website are EXTREMELY reasonable (for the bottle of oil I got above, you would only pay $4.99 per bottle!) which is a significant drop in price from what you would pay in the store. So make sure you visit their website to s (or other . Also, if you want to shop locally, they have a that carry their product on their website.
Overall, I highly recommend this. This olive oil can enhance any dish you use it in and I am so excited to be able to giveaway a bottle of Benissimo Olive Oil to one of my lucky readers!
Buy: Purchase your own bottle of Benissimo oils by . Make sure to visit their as well for some tasty meal ideas!
Follow: Follow Garlic Gold on , , and .
Win: A bottle of Benissimo oils. Enter below and good luck! (US & 18+ entrants only please)

Thank you to Hongar Farms for hosting this giveaway and providing me a free bottle of Benissimo Flavored Oils in exchange for my honest review.