Hodgson Mill's asked bloggers to create a pasta salad recipe using their whole wheat pasta. Totally up for the challenge I agreed, and received several boxes of Hodgson Mill's pasta to try out. Hodgson Mill's has no preservatives , additives or artificial colorings. It is low in fat and cholesterol but high in fiber making it a healthier option for your family. Hodgson Pasta is a 100% whole grain pasta to use in your recipe. For the Hodgson Mill's Summer Pastabilities Recipe Contest I created a Kid Friendly Pasta Salad that I think you guys will love. My family certainly did!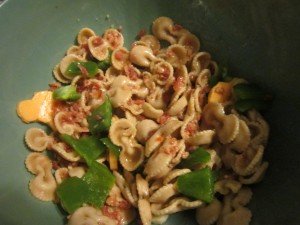 Kid Friendly Pasta Salad Recipe
Ingredients:
1/2 a box (6 ounces) to 1 box (12 ounces) of whole wheat bow tie pasta

1 package of "real " bacon bits(3 ounce package)
1 package of Mickey Mouse cheese ( 6 ounce package you can find this at Walmart or cut your own cheese with cookie cutters)
1 green Bell Pepper sliced
1 red Onion sliced
Italian Salad dressing ( 8 ounces)
Cherry tomatoes (optional)
What to do:
First boil your Hodgson whole wheat pasta. I use 1/2 a box but if you are making it for several people you could use a whole box. Drain and rinse. Add in your bacon, cheese, and veggies. The great thing about pasta salad is that you can add as many vegetables or ingredients as you like and it will turn out great! The key to getting the kiddos to dig in is the Micky Mouse cheese. Add it all in to the bowl and give it a good toss then refrigerate. Best served chilled.
Official Contest Rules here:
Follow: You can follow Hodgson Mill's on / /
Win: One lucky fan will win their own Hodgson Pasta selection (a $25 value) Please Enter below to win below. Good Luck!
I received a sample pack of Hodgson Pasta's for reviewing purposes. All opinions shared here are my own.