I love living in the desert–most of the time. Being 8 months pregnant on a 100 degree day is not my favorite, but that is what air conditioning is for right?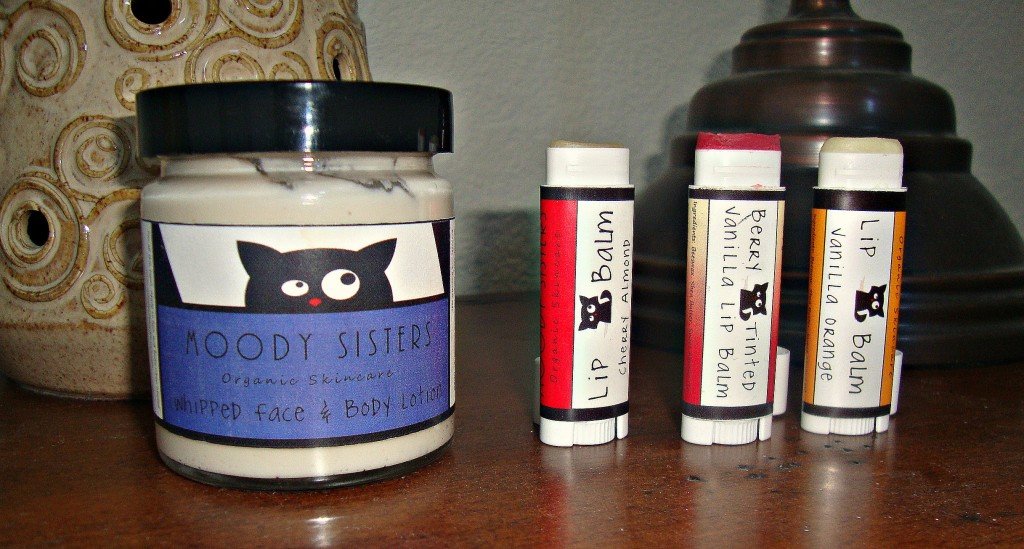 Besides the extreme summer heat there really are not that many drawbacks to desert life. One of the biggest struggles I have is with my lips. I seem to constantly battle with dry chapped lips. I try to drink lots of water and stay hydrated to fight the battle from the inside out, but this desert sucks the moisture right out of me. I am constantly applying lip balm throughout the day. I have tried almost every brand out there and I will probably continue to try the next new thing hoping for a miracle.
I was very excited to partner with to try out their products and especially their lip balms. They also sent me the Orange Vanilla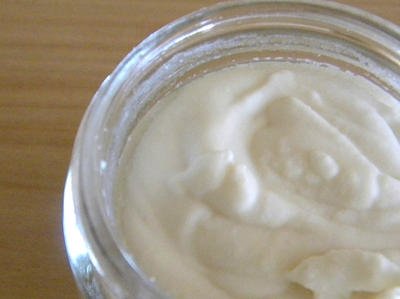 Whipped Face and Body Lotion. As you can see in the picture the lotion is all whipped up and pretty and it smells divine! The scent is very light with yummy orange and vanilla goodness. I was worried that I would go through the lotion really quickly because it comes in such a small size, but I have been using it for over a month now and still have about 1/3 left. This particular lotion is my current belly bump lotion and I am loving it. It is VERY moisturizing and a little goes a long way. I prefer a lighter lotion to use all over my body so I only use this for my belly, hands, and feet. I know it says right on the label 'Face and Body' but I have not used it on my face. I tend to break out with heavy face creams so I decided not to testing out that aspect of the product.
One thing I did notice is that the lotion melted very easily in a warm room. I opened the bottle one night after it had been out on my counter-top and there were melted puddles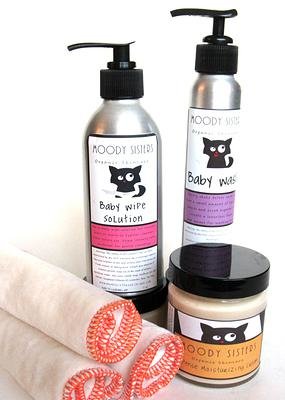 throughout the lotion. I am not a purest with organic products so maybe this is totally normal with organic lotion, but now I keep my lotion in a cool spot under the counter instead of out in the sunlight and I have not had any problems.
I received three of the lip balms to review and I have really enjoyed them! They are smooth and very moisturizing. Some lip balms I have used actually tend to dry my lips out even more, but thankfully that is not the case with Moody Sisters. They use natural oils and extracts to really soften and hydrate lips. The lip balm does tend to melt easily if left in a warm room or car so keep it in a cool place. I really like that they offer a tinted lip balm too. I like to have a little color on my lips, but I am not a huge fan of lipstick.
Moody Sisters offers a few specialty products like the Baby Diaper Bundle pictured above, but almost all of their line can be used by any age. They are so gentle and natural that the whole family can use the full line without worry.
BUY IT:

Check out all of the organic skincare products Moody Sisters offers on !
WIN IT:

One of our lucky fans will win a $25 gift card to Moody Sisters to get some yummy organic skincare! Enter below.



Good Luck! Thank you for entering our giveaways!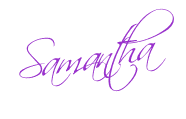 Thank you to Moody Sisters for the review products and for sponsoring this great giveaway! All opinions are my own and 100% honest!