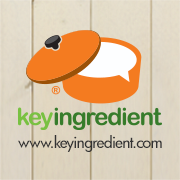 We are finishing up the remodel of my kitchen and I am thrilled! I love to cook and bake and am thoroughly enjoying the extra space and storage. I have been spending a lot more time in the kitchen and am excited to tell you all about my new favorite kitchen gadget. is a website that has an expansive and ever-growing collection of recipes.
KeyIngredient.com offers members access to more than 1.5 million user-generated recipes. One of my favorite features of Key Ingredient is that not only can you browse recipes and reviews written by people who have tried them but it also makes it easy for you to upload your own favorite recipes. If you are anything like me you probably have a stack of cookbooks each with a few go-to recipes but are always on the hunt for new recipes. I love that Key Ingredient makes it possible to do all that in one place. With Key Ingredient I can easily find, share and organize my favorite recipes. Key Ingredient lets you create your electronic cookbooks so that it is easy to find recipes when you need them.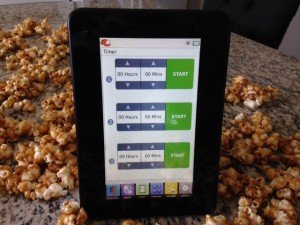 Not only is Key Ingredient an amazing website they also have a free app so that you can access Key Ingredient on the go! I know I sound like in infomercial but that's not all! Remember how I told you that Key Ingredient is my favorite kitchen gadget? Well, the Key Ingredient Recipe Reader is a digital touch-screen cookbook. It is Wi-Fi enabled which makes it easy to use and sync your Key Ingredient cookbooks remotely. The Key Ingredient Recipe Reader also is full of wonderful features that make life so much easier. It has three built in timers, a conversion calculator and a common kitchen substitution ingredient list that you can refer to if you happen to be missing an ingredient.
I appreciate how easy to navigate the Key Ingredient Recipe Reader really is! I also love that unlike other tablets or devices that you could use the app on, the Key Ingredient Recipe Reader is meant to be in the kitchen. It holds up to spills and splatters. It is easy to wipe clean and I love that the screen automatically rotates depending on if you have it laying down or standing up. I also love that it lets you adjust the font size so that it is easy for anyone to use without reading glasses (unlike many recipe books).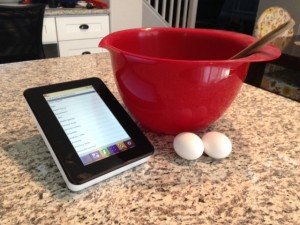 While I love my Key Ingredient Recipe Reader I do hope that future models will have more responsive screens. With all that it does and all that it can withstand that feels like a small matter. Without a doubt my Key Ingredient Recipe Reader will be put to good use this holiday season. It would also make a wonderful gift!
Since we are talking about amazing recipes we have decided to start sharing some of our favorite family recipes on our blog! This time of year I love making my Aunt Candy's Caramel Popcorn. I have uploaded the recipe to my Key Ingredient Account which will make it easier for me to find next time I go to make it. I was very impressed that it was so easy to share the recipe and load it onto my Key Ingredient account. I was also impressed with how seamlessly it synced with my Key Ingredient Recipe Reader. Here is the recipe for you to try:
6 quarts of popped popcorn (you can use an air popper or stove top). Pop and set aside in a roasting pan.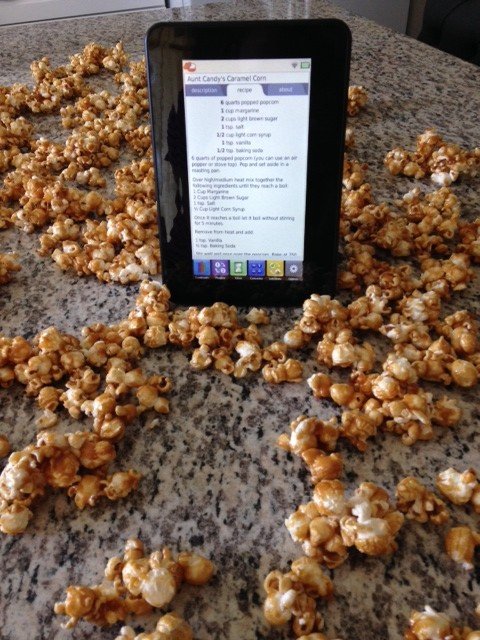 Over high/medium heat mix together the following ingredients until they reach a boil:
1 Cup Margarine
2 Cups Light Brown Sugar
1 tsp. Salt
½ Cup Light Corn Syrup
Once it reaches a boil let it boil without stirring for 5 minutes.
Remove from heat and add:
1 tsp. Vanilla
½ tsp. Baking Soda
Stir well and pour over the popcorn. Bake at 250 for 45 minutes stirring every 15 minutes.
When the time is up remove from the oven and roasting pan and let the popcorn cool. Munch, share and enjoy!
I love that Key Ingredient makes it possible to easily Create, Collect and Cook!
CONNECT:

You can connect with Key Ingredient on , and .
BUY:

The Key Ingredient Recipe Reader can be purchased for $149 on the Key Ingredient .
WIN:

One lucky YGTB reader will win their own Key Ingredient Recipe Reader. Enter below for your chance to win!



Good luck! Thank you for entering our giveaways!

Special thanks to Key Ingredient for the review item
and for sponsoring this great giveaway!
All opinions are my own and 100% honest!