I love to be in the kitchen doing any and everything, except cleaning up! Cooking and baking can be very fun and relaxing for me but I hate the mess I inevitably make in the kitchen. I'm always looking for unique products that make cooking fun and easier. Silpoura is definitely that kind of product!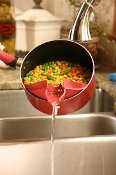 Silpoura is an amazing kitchen tool that has endless possibilities! The is a silicone spout attachment that is made to withstand high temperatures while also being dishwasher safe. All you need to do is fasten the clip on spout to the rim of your container and pour. It can attach to anything from a frying pan to a paint can and amazingly reduces spilling. It can even be used as a spoon rest while you are cooking.
Some of it's recommended uses are:
Pouring warm sauce
Draining rice
Pouring pancake or waffle mix
Pouring paint
Pouring soup
Draining grease
… and that is only the beginning!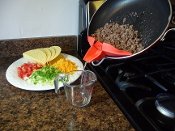 When I found online I was so impressed that this product is on the market. Then I was mad at myself for not thinking of it first! How many times have I grumbled while spooning grease (and inevitably meat) into a waste jar or been pouring batter into a pan and ended up making a mess all over the counter or stove.
Once my Silpoura arrived I was amazed at the quality. It's fantastically durable and I am constantly impressed with how easily and securely it attaches to every container. Above all I love the fact that I end up with fewer dishes and messes to clean up!
The first time I used my Silpoura I was making cupcakes. I absolutely loved that the spout made it so much easier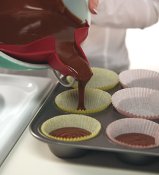 to pour the thick batter without the usual splatter. I did however have issues with the strainer at first because it would flop onto the batter while I was pouring. While the strainer is attached to the spout there is an option, based on personal preference, whereby you can detach it without reducing efficiency. Once you cut it off it can still be reattached onto pegs around the rim of the spout when you want to use this straining feature and it works amazingly. Personally detaching the strainer was great for me because it kept the strainer out of the mix when I didn't need to use this feature. As soon as I made that modification (which they list as on option on the packaging) it has been smooth sailing!
My Silpoura is quickly becoming a tool I cannot live without!
Follow:

You can follow Silpoura on and .
Buy:

Silpoura is available on their for $9.99. Silpoura is offering a 20% discount to YGTB readers when you enter the code: GT1304 in the shopping cart! This code is good until May 29, 2013.
Win:

Two lucky YGTB readers will each win their own Silpoura! Enter below for your chance to win!



Good luck! Thank you for entering our giveaways!

Special thanks to Silpoura for the review product and for sponsoring this great giveaway!
All of my opinions are my own and are 100% honest.