Laundry is a never-ending chore in our house. Thankfully, doing the laundry is one of my favorite household tasks. With a baby, busy toddler, workout clothes, my husbands work clothes, sheets, towels, etc. I easily do 4-5 loads a week. At night when I leave my son's room after tucking him in he always tells me to have fun folding laundry. It is something I often do at night when the kids are in bed and the house is quiet. It gives me a chance to catch up on my TV shows instead of the animated ones I watch in the day.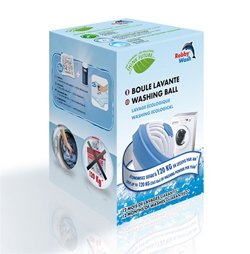 If I do have a complaint about laundry it is the mess. I hate all the soaps, detergents and residue. Recently I had the opportunity to review . While it was hard for me to comprehend how a tiny ball was going to clean my clothes I was so excited to see how it worked!
The Robby Wash Ball has unique, patented technology that cleans your laundry wonderfully! It contains small macromolecule pellets that gradually release in the wash dissolving stains and cleaning all your fabrics. The best part is that the Robby Wash Ball Pack contains 10 ounces of pellets, which can clean for 12 months or 120 washes. That is equivalent to 1,200+ ounces or 75 lbs. of laundry detergent. At $32.95 a pack the savings really do add up. The Robby Wash's effectiveness is tested, proven and guaranteed.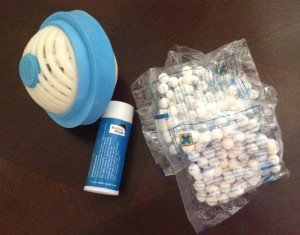 It works in hot or cold water and with front loading and top loading machines. One Robby Wash Ball can clean ten pounds of laundry in a single wash. If you prefer larger loads they recommend using two Robby Wash Balls. These laundry balls can be used with or without bleach but you should never put the laundry ball in the dryer. It could damage the washing ball and reduce its effectiveness.
Along with the full Robby Wash Laundry Ball you also receive 3 extra refill pellet packs and a stain stick. The stain stick in my opinion was the least amazing part of the pack. It is pretty small and while I tested it on several different stains I didn't find it to be consistently more effective than my regular stain remover.
Over all I am extremely impressed with my Robby Wash Laundry Ball Pack. It cleans my clothes easily without making a mess. I smile every time I start the washer without putting in detergent. I absolutely appreciate that it is hypoallergenic since the men in my life have sensitive skin. It is very gentle. The Robby Wash has no phosphates or chlorine nad is RoHS lead free.
FOLLOW:

You can connect with Oransi on , and .
BUY:

Oransi also carries other wonderful products including Air Purifiers and Ionic Deodorizers. You can learn more about their products and purchase them directly from their .
WIN:

One lucky YGTB winner will receive their own Robby Wash Laundry Ball. Enter below for your chance to win!



Good luck! Thank you for entering our giveaways!

Special thanks to Oransi for the review products and sponsoring this great giveaway!
All of my opinions are my own and are 100% honest.