Today I'm bringing to you the best and weirdest salsa I've ever had!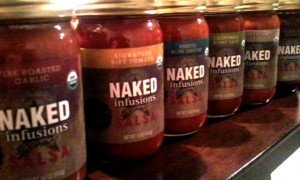 I got the chance to review Naked Infusions salsa recently and I couldn't wait to describe my experience with this salsa. First of all, I had to research about the company, because they bring out the strangest salsa flavors I have ever seen and I just had to find out about their company.
Naked Infusions Salsa was imagined by the owner who grew up on a farm and wanted to bring that freshness to your table. The ingredients come from local California farms and as the owner states, "The real salsa of my youth is back."
I received an onslaught of samples from them to try. So far I haven't gone through half of what they sent, but I did go through a select few that were surprisingly good. My favorite so far is Ripe Tomato salsa. This makes for a great topping and dip for your meals. I especially loved this with fish tacos and slathering a good layer of salsa on top (it makes me hungry just thinking about it!).
I also tasted the Rustic Blue Cheese Salsa and I didn't get the strong cheese flavor I was expecting, which was good. I tried with cheese quesadillas and I thought it tasted the best with them. It didn't have a strong enough flavor to go with the baked chicken I made, but that's okay!
I can't wait to try the rest of them. They don't have a lot of chunky vegetables inside, so that can be a very good thing for some of you salsa lovers out there. For me, I do love see a lot of chunky vegetables in salsa because I feel like that enhances the experiences. I thought this was a more "sauce-y" salsa, if that makes sense. This is such a unique brand that I know I will see more unique flavors soon.
Buy: Purchase your own jar of Naked Infusions salsa at a local store in your area (they have a list of grocery locations on their )or purchase .
Follow: Follow Naked Infusions on , , and .
Win: One winner will receive 6 mini jars of Naked Infusion salsa and chips!