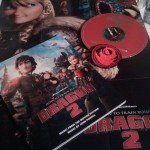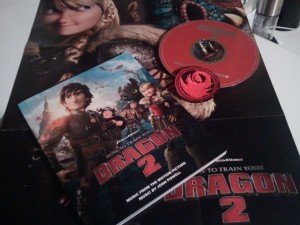 I think almost all of my friends on Facebook have seen or have talked about wanting to see the movie How to Train Your Dragon 2. So I couldn't wait to check out the CD that featured music from the incredible movie!
You may recall not too long ago, a review and giveaway on an
ACM Awards ZinePak
and I absolutely loved the layout of the booklet you get with the CD and the little prize you get when you buy the CD. When I was contacted about doing a review on that movie soundtrack from the same people sent me that other CD, I was so excited! I just knew that I would enjoy every bit of what I would receive.
And I was definitely not disappointed. As you can see from the photo above, each How to Train Your Dragon 2 ZinePak comes with an amazing poster (I have no shame in admitting I've put that poster up on my wall) and an iron-on patch along with a booklet filled with activities and games inspired by the movie.
Then you have the music itself – I really enjoyed this music a lot. I love write short stories and when I need inspiration to write, music one element that never fails to get my creative juices flowing. With this music, it felt so adventuresome! I enjoyed listening to it on my way into work, it made me feel inspired. So whether you have kiddos who may LOVE have this playing while they take off their own adventures, or you are adventures or creative yourself and need that extra boost, this music is perfect for you. And this actually made me want to see the movie, so don't worry if you haven't seen it, because I'm certain you will enjoy this.
Overall, I enjoyed the CD and the ZinePak overall and I think this is something everyone should go out and buy whether you are fan of the movie or not.
And the best part of all, is that I get to giveaway a How To Train Your Dragon 2 ZinePak to one lucky reader!
Buy: Purchase your own for only $14.98 (on sale for $10.00 online today!).
Follow: Follow ZinePak on
,
, and
.
Win: Enter to win a How to Train Your Dragon 2 ZinePak using the Rafflecopter below! Giveaway ends 7/25.

I received a complimentary copy of the ZinePak in exchange for my honest review. All opinions are my own. ZinePak is responsible for sending the prize.