You all know that I am a huge caffeine addict, so I couldn't wait to try out this coffee from this company called, "Moustache Coffee Club."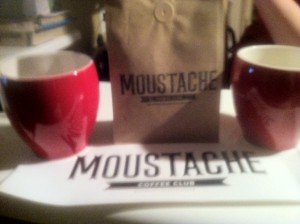 Before I get into the nitty gritty details of how their coffee tasted, I wanted to read over their company and what they were all about. They founder, Sean Reilly, born in Ireland who founded the company in Los Angeles after trying to find the right beans roasted within the last week, but wasn't satisfied with anything he found. Ambitious, and he's kind of cute, too. Isn't that an excellent combination?
The Moustache Coffee Club is exactly what it sounds like, it's a coffee club that ships out new coffee beans to it's members every month. You can sign up for a weekly subscription and get one 12 ounce bag of coffee every week or try out a 12 ounce bag every month (or every other week). Their prices are reasonable, although maybe a bit more money than I would usually spend on a bag of coffee (about $17.49 for a 12 ounce bag of coffee per week).
Now to the review! At first, I was a little hesitant about trying this blend of coffee because the beans were a bit lighter than I usually like to drink. But lucky for me, this coffee came in around the time a big heat wave came through the Portland area, so I made a big batch of coffee and turned this hot coffee into iced coffee. I thought this was an excellent coffee to use for an iced drink.
I wouldn't say that would it be my first cup in the morning, but for an afternoon or evening drink or something colder, I would highly recommend it. I did a little digging on their site and they tend to use lighter roasts in general. I'm really picky usually with coffee and do go for the more darker roasts, but I would definitely buy this for a friend with a more flexible palate when it comes to the coffee they drink.
Buy: Get your own free trial of Moustache Coffee Club by or get started with your own weekly or monthly subscription by visiting the same webpage.
Follow: Follow Moustache Coffee Club on and .

I received a free bag of Moustache Coffee in exchange for my honest review.