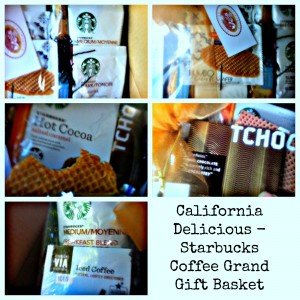 I don't know about you, but I think gift baskets make for excellent gifts. And I jumped at the chance to review one of the amazing gift baskets made by California Delicious, a California based company that selects item from the sunny state, making sure each item is quality and chosen with care.
I received this amazing gift basket of Starbucks coffee and treats, and it reminded me of something you would definitely want to send to a grad going away to college for the first time . I could just imagine them opening this up and seeing all the coffees, treats, hot chocolates, and tea selections and being so excited. Because I certainly was!
I will admit the first thing my family and I did when we got the gift basket was tear into those tasty Starbucks biscotti's! Sure, I'm supposed to be going gluten-free and I've been very good about it, but I couldn't resist. There were four in the gift basket, too, which made for excellent sharing! Plus there were two caramel wafers and two chocolate bars and let me tell you these are excellent with coffee.
There was salty caramel hot chocolate and despite the summer season, I can't wait for a bit of a cooler day this week so I can enjoy it! Plus there was even iced coffee included and this is perfect for the summer season! Finally there was also calm chamomile tea which I absolutely loved (I'm big on hot tea – winter spring summer or fall). Then the coffee. Of course, and Starbucks coffee is 100% quality and I am never disappointed and I wasn't this time around either!
Overall, I highly recommend this site for any gifts you preparing to buy. Probably the only downside is maybe the expense of the gift baskets, but after seeing the variety I got with the Starbucks gift basket (priced at $59.99 on their website) it's worth it. You get so much for the amount you pay. Plus, I recommend signing up for their newsletters for special deals and coupons.
Best of all, I get to giveaway a $50 gift card to their website!
Buy: Purchase your own gift basket by visiting their website the.
Follow: Follow California Delicious on , , and .
Win: Enter to win a $50 Gift Card to California Delicious using the Rafflecopter below. Giveaway ends on 6/27. US Only Giveaway (Gift Baskets ship to physical addresses only).

I received a free product in exchange for my honest review. Opinions are 100% my own.