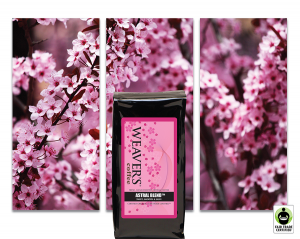 I love the chance to try out a new blend of coffee and my experience with Weaver's Fair Trade Coffee has been an incredible one. Before I get into the details of the coffee itself that I tried, here's a little bit of information about the blend and why it's so important to Weaver's Coffee.
First of all, they are a fair trade company and this blend is no different. As the Fair Trade USA organization , "Products that bear our logo come from farmers and workers who are justly compensated." To me, beyond the taste of the coffee and the price, I want to know I'm supporting an company that believes in these types of values. (Make sure to read the full article about Astral Blend and Fair Trade over at ).
Second, this particular blend of coffee – the Astral Blend – supports Breast cancer Research. 5% of the sales go to funding local hospitals and community organization that support breast health education, breast cancer screening, and treatment.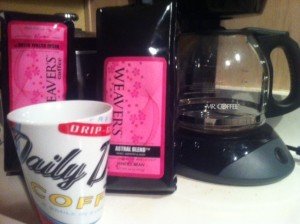 Now onto my experience with the coffee!
I must say this is such an aromatic blend. I love the smell of coffee when I wake up in the morning and this was such a wonderful experience. And now for the best part of all – the TASTE!
To be honest, at first, I was wondering how strong the coffee would end up because my first cup of this coffee was a little weak. But then, I made another pot of coffee and added a little more grains, and it was devine!
What I loved about this coffee is that it was flavorful without being bitter tasting. I think if you are against overly dark roasts at all, you will want to go online and purchase a pound or two of this coffee. As a dark roast kind of girl, I usually am susceptible to any blends NOT dark roast, but this was a perfect amount of flavor without bitterness as dark roasts can lean towards sometimes. I even enjoyed the decaf blend I received, which is saying a lot. I would only suggest that if you like really strong coffee, make sure you add more grains than you usually would when you make a pot of coffee with this blend.
Overall, I had a great experience with this coffee and I highly recommend you purchase this. It prices at $16.95 per one pound bag. This is a perfect gift to buy for Mother's Day or Easter – which is just around the corner!
Follow:

You can follow Weaver's Astral Blend FCoffee on and .
Buy: You can go online and purchase your own bag of the Fair Trade Astral Blend Coffee by going to visiting the Weaver's Coffee .
Win: One lucky coffee addict will be able to win an Astral Blend gift set! Enter below to win.

Thank you to Weaver's Coffee for sponsoring this review and giveaway. I received this item in exchange for my honest review.