I am an admitted and unashamed coffee fanatic, so I couldn't wait to try coffee from the Coffee Beanery and jumped at the chance to review some of their coffees.
The Coffee Beanery started out in Michigan in 1976 and it's become an industry leader over the last 30 years it's been in business. They have over 100 locations across the United States and continue to bring quality with every blend of specialty coffee they make.
When I received my "treasure chest of coffee," honestly, it's almost as if they know me way more than I thought they did, because I couldn't figure out what I was more excited about – the varieties of coffee to try or the treasure chest itself!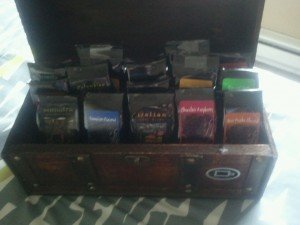 I was SO excited to review these coffees. Each one had a different flavor from the unique such as Green Apple (which turned out to be my favorite) to more familiar flavored coffees such as Hazelnut and Double Chocolate Fudge (yum!).
Here's a list of all the coffees that I got in the treasure chest (I got this full list of coffee names from the ):
Colombian Supremo
Beanery Blend®
Italian Dark Roast
Hawaiian Coconut
Caramel Apple
Vanilla Nut Cream
Chocolate Raspberry
Double Dutch Fudge
Swiss Mocha Almond
Hazelnut
Crème Brulee
Breakfast Blend
Pumpkin Spice
Sumatra Mandheling
Michigan Cherry
Each coffee was about 1 ounce to 1.75 ounces and what I did was add them to my usual selection of coffee for the morning to enhance the flavors. It made for an excellent second pot of coffee and every morning was exciting because I got try out a new flavor! I even have a few more that I need to try, but honestly, this is an excellent way to try out a bunch of coffees at once and I know this will be my guide to buying my next batch of coffee from them. This makes for an excellent holiday surprise or a gift for someone's birthday (or Father's Day and graduation season is just around the corner!)
The best part about this review is I get to giveaway a gift basket to one of my lucky readers! Just in time for Father's Day! Also, everyone gets a 15% off discount for any of your online orders.
Buy: Purchase your own coffees and gifts online by visiting their website . All online orders through June 30th will receive 15% off using the coupon code: GOLDENTICKET
Follow: Follow Coffee Beanery on , , and .
Win: Enter to win a gift basket from Coffee Beanery. Giveaway ends on 6/22.

Coffee Beanery provided me a free item in exchange for my honest review. All opinions are 100% my own.