I used to be a huge fan of country music and stopped listening within the last few years. When I had the chance to listen to the music from the nominees of the ACM (American Country Music) Awards, I jumped at the chance! I could finally catch up on everything I had missed, or at least, what I missed over the last year.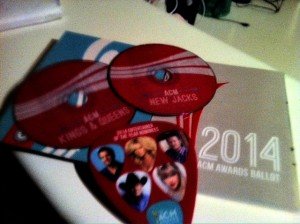 I have to say first of all, the ZinePak itself is perfect for someone who is a country music fan – it has interviews, behind the scenes information, photos, and even guitar picks (which made me really wish I knew how to play!). It has two CDs, one filled with names even I found familiar and another CD with some of the new kids on the country music block. This made me look forward to the ACM Awards even though I haven't been listening to country music lately!
I listened to the CDs and I have to say I am impressed with the music out lately. It's really good! Even though it may not have the usual twang and energy I know and love from old country and even country of the 90s, it still shows some talented musicians and exciting new things that are happening in country music lately. I especially loved hearing some of my old favorites like George Strait and Rascal Flatts! It also has Taylor Swift (although, admittedly, I am not one of her biggest fans, but I did enjoy the song 'Red' on the CD. I can definitely understand why she has a following!).
If you are a country fan, you will want to go out and buy this CD. You can buy the ACM ZinePak at for only $10! That is another huge factor – it is at an inexpensive price too. But make sure you buy this before the ACM Awards so you can get the entire experience (by the way, the ACM Awards air on April 6, Sunday 8/7 c.
Follow
:
You can follow ZinePak via , , or .
Buy: You can purchase your ACM Awards ZinePak at for only $10 the last time I checked (usually about $14) (also include the cost of shipping or it's free to pick up in store).
Win: One lucky winner will receive a copy of the ACM Awards ZinePak. Enter via Rafflecopter below!

Thank you for ZinePak for sponsoring this post and giveaway. I received this ZinePak in exchange for my honest opinion. My opinions in this post are my own.