Homemade baby food is such a great way to make sure your tiny one is getting all of the best fresh ingredients without any fillers or preservatives. My little D is getting bigger and we will be introducing foods in the next few months. I want to try to make all of her baby food so I was super excited to partner with Infantino and review their Squeeze Station for my kids.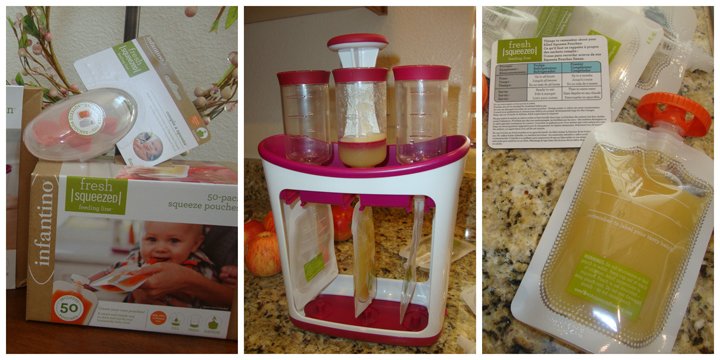 Since baby D is not quite ready for solid foods yet, I decided to make some apple sauce for the older kids to try. I happened to have a huge box of apples that I needed to use so this review gave me the motivation to make my first batch of homemade applesauce. Once the applesauce was completely cooled it was ready to be put in the pouches.
The Squeeze Station was very simple to set up and the instructions were very easy to understand. I just filled the canisters with applesauce and then used the plunger to push the applesauce into the bags. I did find that some juice leaked out the bottom of the canister/top of the bag, but I think it was because my applesauce was a little watery. If you are working with a thicker liquid I don't think there would be any spillage.

The plunger was easy to use and the bags filled very quickly. I was able to get a lot of bags filled in a short amount of time. I could see how if you were preparing a large batch of baby food this would make it very simple to divide up and fill lots of bags in just a few minutes. The pouches can be frozen for later feedings or refrigerated if used quickly.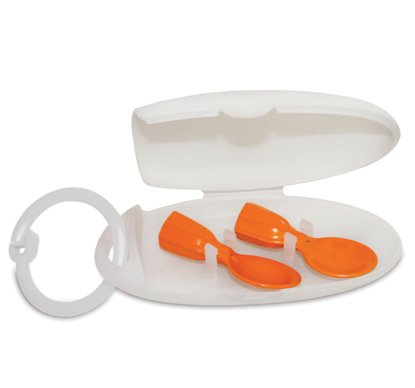 The whole station was easy to clean and stored nicely all together. I like that Infantino thought of making the storage compact and neat. They really do pay attention to detail and ease of use and storage with their products.
A spoon can be attached to the top of the pouches for easy feeding of an infant. There is even a carrying case so the spoon does not get dirty.

I like that these pouches allow me to make healthy food for my baby, my older kids, or even for my husband and myself. They are easy to use and I am looking forward to making some of the other fun recipes that Infantino suggests on their blog.
Follow:

You can follow Infantino on and .
Buy:

You can shop for your own on their website or at any major retail store (Target, Walmart, Kmart, Babies'R"Us, etc.).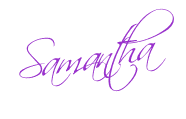 Thank you to Infantino for sponsoring this review. This product was provided by Infantino to facilitate my review. All opinions are my own and 100% honest!