This sweet little treat is healthy enough to make you feel good about yourself but sweet enough to satisfy your sugar cravings. A great treat for homecomings and farewells, this treat goes fast with crowds, can be made for large or small groups, and is delicious of course! The recipe has very few ingredients and can be made with any variety of fruit on top. Red berries on top are my family's favorite, but don't be afraid to go crazy with the kiwis, Mandarin oranges, mangos, and any other delectable fruit slices you can find. It's tart, it's fresh, and it's perfectly fruity.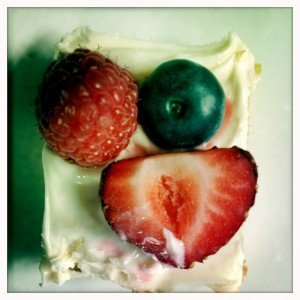 Ingredients
1 1/2 sticks butter, sliced and softened
1 8 oz. package cream cheese, softened
1/2 cup powdered sugar
1 1/2 cups flour
1/2 cup granulated sugar
1 teaspoon vanilla extract
Fresh fruit
Instructions
Crust:
Mix powdered sugar, flour and butter by hand or in a food processor until mixture forms a ball.
Using fingers, press into a 12-inch tart pan with removable bottom.
Bake 10–12 minutes, until crust is very lightly browned.
Set aside to cool.
Filling:
Mix cream cheese, sugar and vanilla together until smooth.
Spread over the cooled crust.
Arrange fresh fruit on top such as: sliced strawberries, raspberries, blueberries, kiwis, mandarin orange segments, etc.
Notes
This tart looks and tastes even more fruity and special with a special glaze. To make the glaze: Combine 1 (6 oz.) can frozen limeade concentrate, 1 tbsp. cornstarch, 1 tbsp. fresh lime juice, and 1/4 cup sugar. Heat in a saucepan over medium heat until mixture turns clear and thick (about 2 minutes). Let cool and brush over fruit tart with a pastry brush.
*Keep the tart refrigerated as it contains cream cheese.
http://yourgoldenticketblog.com/2015/02/fresh-fruit-tart/