This frosting has been a family favorite for decades. The recipe was handed down from my grandmother Blanche Miner and has continued to pass throughout the generations because it is so delicious!
Homemade, and oh-so-easy to whip up, this frosting is sure to make any treat just a little bit sweeter and special. You can mix up the amounts of ingredients used for this recipe, add color, sprinkles, and make it fun. Goes great on our Classic Sugar Cookies that we make as a family tradition for Valentines Day, Christmas, and Easter. Enjoy!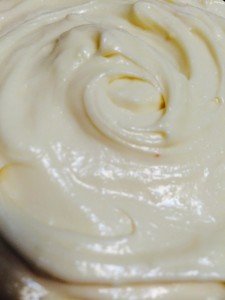 Delightful Buttercream Frosting
Ingredients
1 (16 oz.) pkg. confectioner's sugar
6 tbsp. butter or margarine, softened
3–4 tbsp milk or half and half (or more if desired)
1 1/2 tsp. vanilla extract
1/8 tsp. salt
Food coloring (to make different colors)
Candy sprinkles, etc.
Instructions
Mix all ingredients at medium speed until very smooth, adding more milk if necessary to reach desired spreading consistency.
Spoon frosting into separate bowls and add food coloring of choice.
Notes
See the recipe for sugar cookies that this yummy frosting goes with. Sugar cookie making and decorating with this frosting is a family favorite activity for the holidays–Christmas, Valentines, Easter, you name it!
http://yourgoldenticketblog.com/2015/01/delightful-buttercream-frosting/