Did someone say cream cheese, chocolate, and Oreos? These Easy-Breezy Oreo Truffles are sure to be a hit at any party. The sweet treats are easy to make and have already become a recognizable, popular treat of choice. You may have actually already made this treat before. And with only a handful of ingredients and a few steps, what's not to love? Bake these goodies for parties, showers, or just for a small snack. They are sure to please any taste buds…unless you're allergic to incredibly tasty chocolate treats that is. I have made these treats many times and somehow half of the cookie sheet is empty before I get out of the kitchen. It's easy to make, only requires a few ingredients, and tastes at least as good as any truffles you can buy in a nice chocolate store. What more can I say? Try the recipe yourself!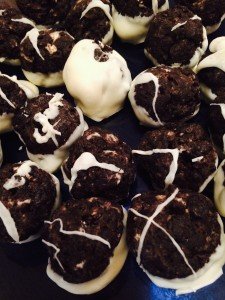 Easy-Breezy Oreo Truffles
Ingredients
1 bag Oreo cookies, ground in blender/food processor (filling and all)
8 oz. softened cream cheese
1 pkg. Almond Bark (white chocolate candy coating)
1 square of the chocolate bark for drizzling
Instructions
Grind Oreos in blender/food processor or mash until fine.
Mix ground Oreos and cream cheese until well combined.
Roll mix into 1 inch balls and place on cookie sheet.
Refrigerate 1-5 hours or until firm.
Melt white chocolate according to package directions.
Using 2 spoons, dip balls into chocolate and place onto wax paper to harden (refrigeration helps).
Once hardened, melt chocolate back and spoon into the corner of a Ziploc bag. Snip a corner (small snip) and drizzle over the truffles as desired. Let harden.
Chill in the refrigerator and enjoy!
Notes
Drizzling extra chocolate on the truffles is optional. Room temperature truffles work just fine but refrigerating the truffles throughout the process makes everything less messy.
http://yourgoldenticketblog.com/2015/01/easy-breezy-oreo-truffles/