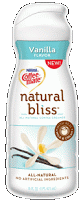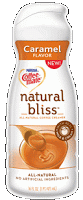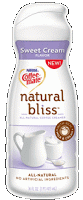 THIS GIVEAWAY HAS ENDED! Thanks for entering!
Congrats to JESSIE C. on winning!
My husband and I are both avid coffee drinkers. We pretty much have to have our cup in the morning and maybe another in the afternoon. If it's a special night, we'll go out for a cup at an Italian cafe later at night. We like our coffee!
And we both take ours with cream and sugar. If I don't have cream in my coffee, I think it tastes TERRIBLE! So it can't be milk, even whole milk, it has to be cream.
I was very excited to try out Coffee-Mate's new Natural Bliss line of creamers! I have tried their non-dairy creamers in the past, and although they are good if you're in a bind and need to lighten your coffee, I prefer the flavor and richness of real cream!
I am happy to say creamers did not disappoint! I tried out every flavor:
Vanilla
Sweet Cream
Caramel
Okay, so my favorite by far is the Sweet Cream, because it has that rich creamy taste, but also has sugar. So… sidenote – if you usually take sugar, probably skip that step because the creamers are already sweetened!
Caramel was pretty good too, and I do sometimes like to add a flavor shot to my coffee, so Caramel is a good flavor choice!
Vanilla was my least favorite. It was still good, but I don't care for vanilla flavoring in my coffee anyway, so I am not surprised that it wasn't my favorite.
The good thing (to me) about these creamers is that they use natural ingredients. Not a lot of fillers and thickeners like some creamers. And they are sweetened with sugar. No artificial sweeteners! That is a huge plus to me. I know sugar should be used in moderation, but at least it is natural! Coffee to me would not be coffee without a little bit of sugar!
I think you'll find Coffee-Mate Natural Bliss creamers to be delicious! You'll find them in just about any grocery store! Have you tried them yet? Well, guess what… one lucky winner will get to try Coffee-Mate Natural Bliss for FREE!
WIN IT:
One lucky reader will receive a Free Product coupon good for 1 Coffee-Mate Natural Bliss creamer! (ARV $3.00).
Giveaway is open to US addresses only.
Entries will be accepted until midnight PST on August 23, 2011.
(for detailed instructions on how to enter our giveaways

click here

)
.
Thanks for entering and good luck everybody!





Thank You to Coffee-Mate for providing a sample for review and the giveaway prize!

Disclosure: I wrote this review while participating in a campaign by on behalf of Coffee-mate and received coupons and a promotional item to thank me for taking the time to participate.