You have seen on our site before, but this is my first experience trying out their fun color changing products. If you happened to miss the other posts on Del Sol, I will explain the concept….the Del Sol products start one color and then when they are in sunlight they turn totally different colors! I knew that was the case, but I had no idea that they had such a wide range of items to purchase from shoes to nail polish?!?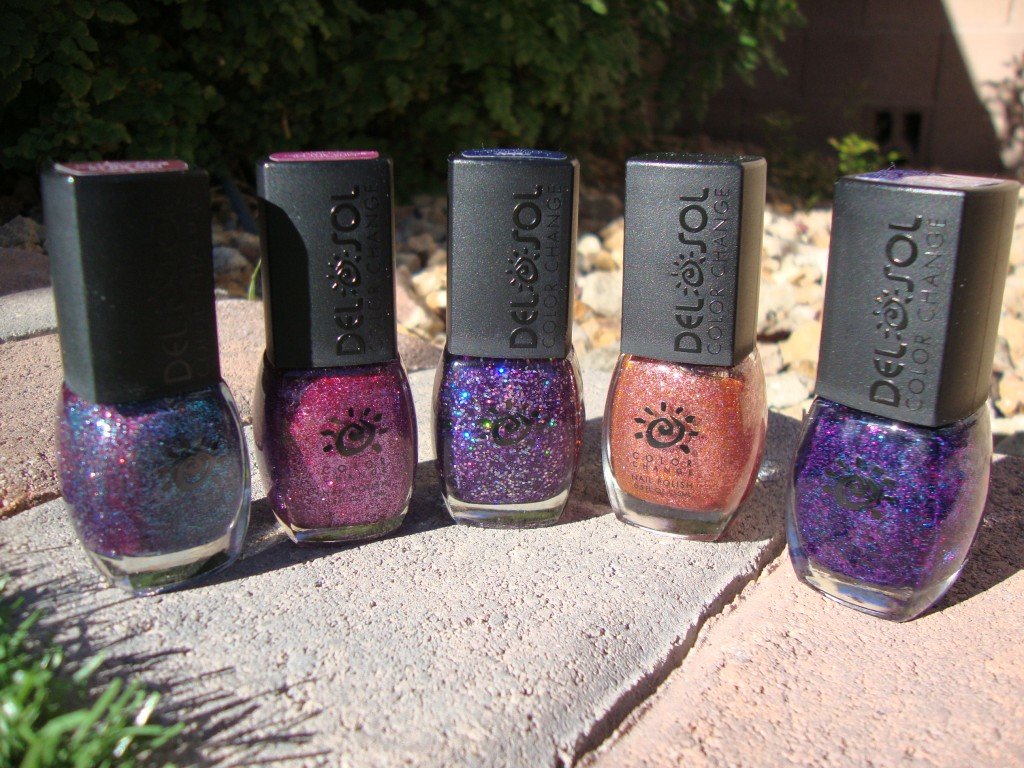 Yes, I said nail polish! The nail polish turns different colors in the sunlight. It it really amazing and TONS of fun! I have gotten so many compliments on my sparkly nails and when I tell people that the color changes in the sunlight they always want a demonstration. It is kind of hilarious to see mothers acting like 6 year old kids trying to shade my nail polish from the sun and then putting it in the light to watch it change. LOL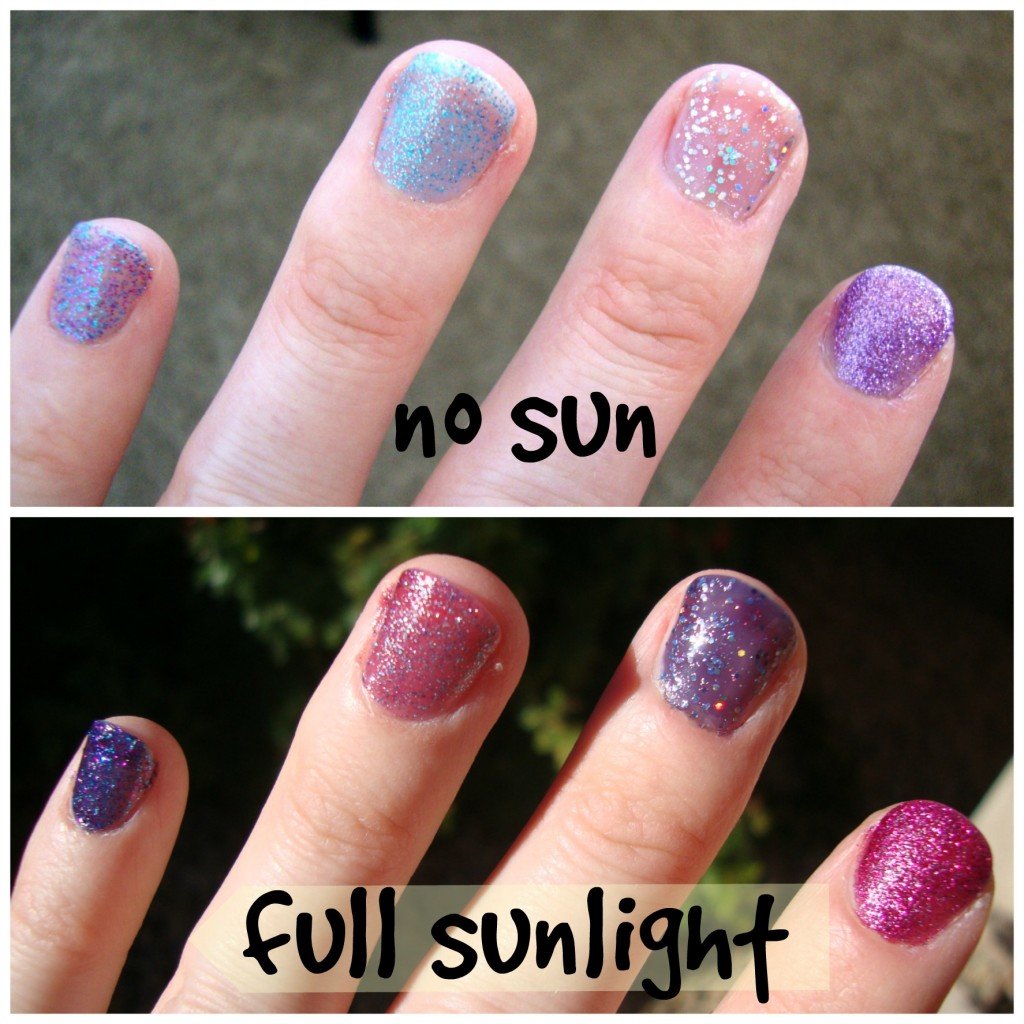 Not only does the nail polish have that fun color changing novelty factor, but it actually stayed on for a long time too. I appreciate the high quality of the Del Sol products that I have been able to try out. I am not sure how they get a nail polish to change colors in the sun, but I like to think it has something to do with fairy dust and magic. 😉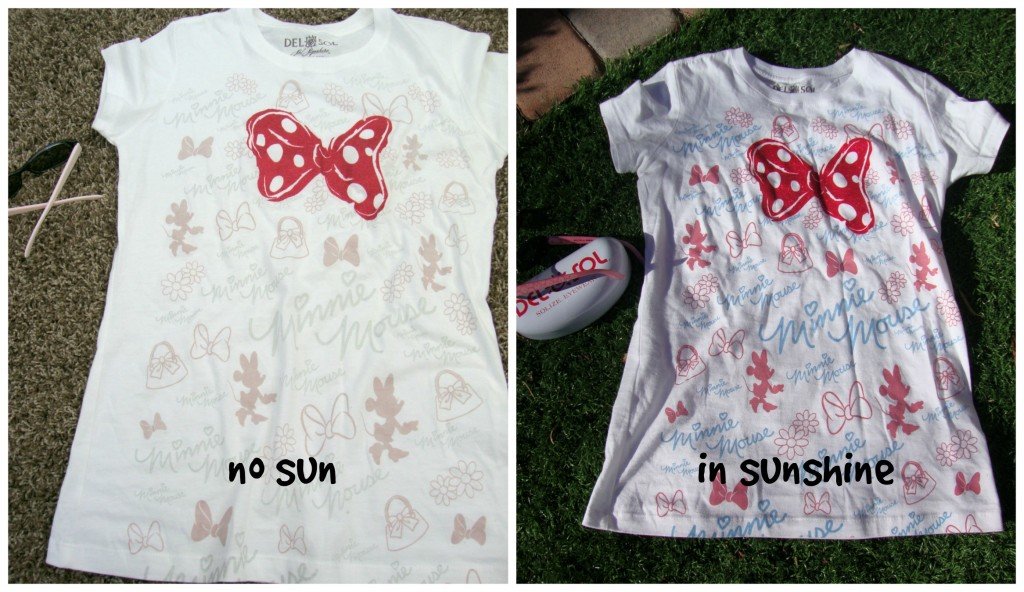 Speaking of magic…I am so excited to wear my new Del Sol Minnie shirt to the "Most Magical Place on Earth" Disneyland! I can't say it enough…I love, love, love my Minnie Mouse shirt. My 4 year old is obsessed with Minnie right now so when I showed her my shirt she asked very sweetly if she could have it. Even thought it drowned her she worn it around for a whole day.
I think this is hands down the best shirt you could purchase if you were going to Disneyland or Disneyworld. It is so fun and adds to the whimsy of being at the Magic Kingdom! If Minnie is not your style you can check out the Del Sol website for all sorts of Disney characters for adults and children. I was a little worried that maybe the shirt would stop working after it was washed and dried, but these pictures were taken after half a dozen times of washing and drying the shirt and it was still perfect!

Did I mention my favorite Del Sol product yet? Their super cute and stylish sunglasses! I love the fun colors that Del Sol uses for both color changes and they have lots of great styles to choose from! Also, there is a 100% guarantee on sunglasses–no matter what! You could sit on them and break them and they will send you another pair for free! How cool is that! I have to give props to Del Sol for being such a great company to go above and beyond with their customer service!

CONNECT:

You can connect with Del Sol on and .
BUY:

You can purchase or from their retail stores worldwide.
WIN:

One lucky YGTB fan will win a pair of Del Sol sun-glasses and a t-shirt of their choice! Enter below for your chance to win.
**Be sure to to get the latest updates, reviews, recipes and giveaways from Your Golden Ticket Blog!**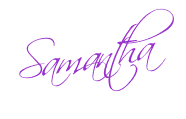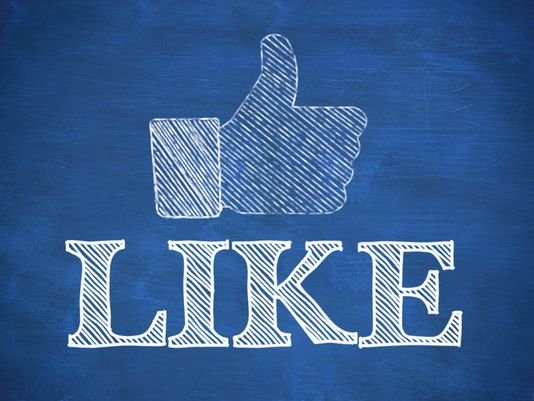 Thank you to Del Sol for the review items and for sponsoring this fabulous giveaway! All opinions are my own and 100% honest!