Spring is here and summer is on it's way fast! Our family is spending a lot of time outside and we are loving it.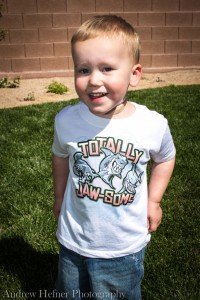 Recently I had the opportunity to review products from Del Sol and since then, we have been having even more fun in the sun!
Del Sol is a company based in Sandy, Utah that creates color changing products. You know how with many products that change in some way they say, "Just add water?" Well, with Del Sol all you need to add is the sun! Del Sol has over 10,000 color-changing retail items including everything from sandals to jewlery. The key to the color-change is the Spectrachrome color-changeing crystals that open and unfold upon exposure to sunlight
similar to the way that flowers bloom in the sunlight.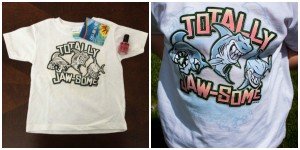 When I showed my son all of the products on their website he wanted all of them! We settled on this Totally Jawsome t-shirt and he loves wearing it. The first time we went outside wearing it and he saw that not only did colors appear but there were actually sharks that werent visible when we were inside. It has been fun watching other people react when we are running errands or at the park with friends. When it came time to wash his shirt, we washed it like our other shirts and it hasn't faded at all. We have washed the shirt several times now and his shirt continues to react the same way in the sun every time.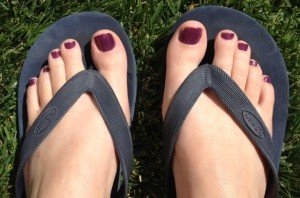 I have also been loving the Girls Night Out nail polish that I picked out. Inside it is a bright hot pink and in the sun it is a vibrant grape color. Like many of you I love having my nails painted but after a week or so I get tired of seeing the same color day after day. The fun thing about my Del Sol nail polish is that it's really two colors in one! When I got my last pedicure a couple weeks ago I took the nail polish with me and it has held up really well! I did do a topcoat so I am sure that has helped but the picture showing the pink, inside polish was actually taken a week and a half after the picture of the purple ouside polish so you can see how well it held up.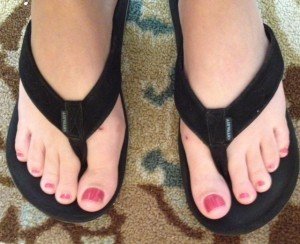 Without a doubt I recommend Del Sol's color changing products. They are each so fun and vibrant! I'm sure that you can find the perfect gift for anyone on their .
Buy It:

Check out all of the color-changing products they have available on their .
Win It:

One lucky YGTB reader will win a shirt and nail polish of their choice! Enter below for your chance to win!
Good luck! Thank you for entering our giveaways!

Special thanks to Del Sol for the review products and sponsoring this great giveaway!
All of my opinions are my own and are 100% honest.