Did someone say bacon? That means this must be delicious! This casserole is a quick concoction of a college boy who took ingredients from his fridge, experimented, and viola! A masterpiece was born…a quick breakfast masterpiece that is. This recipe is super easy to make and only requires a few short steps and ingredients. If you want to expand on this recipe, you yourself can come up with your own ingredients and concoctions to see what culinary masterpieces you discover!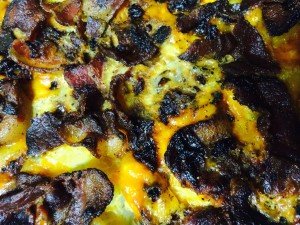 Cheesy Potatoe, Egg, and Bacon Casserole
Ingredients
Potatoes
Whipped-up eggs
1/4–1/2 cup milk
Shredded Cheese
Cooked bacon (as desired)
1/4–1/2 cup chopped onions
Salt and pepper to taste
Instructions
Boil amount of desired potatoes depending on casserole pan size. Lay potatoes in the casserole dish.
Whip up eggs and milk together until smooth you have a smooth consistency.
Add mixture to casserole pan on top of potatoes.
Sprinkle shredded cheese on top as desired.
Add cooked bacon, onions, salt, and pepper.
Bake at 350 degrees in the oven for 30 minutes or until done.
Notes
You can honestly add whatever breakfast items you want to this casserole to make it your own. Because the recipe calls for cooked bacon, the bacon may become dark if cooked in the oven too long. Watch the casserole closely to avoid burning the bacon or use bacon that is only partially cooked when preparing this dish.
http://yourgoldenticketblog.com/2015/01/cheesy-egg-and-bacon-casserole/