**Warning–both the Ninja Ultima Blender and the Ninja Professional Blender have removable razor sharp blades that you can seriously cut yourself on! Please be careful when washing the blades and DO NOT let children around the blender or blades! The safest place to store the blade is inside the locked pitcher!**

I was happy to be sent the Ninja Ultima Blender for a review and to compare to my original Ninja Professional Blender. I have been the owner of the original Ninja blender for a few years now, but I really wanted to see how the Ultima stacked up against the original. There are some key differences listed below regarding the specifications of each blender, but more important than the horsepower and such…I want to talk about how both blenders preformed in a real life setting.
I have to start out by saying that the Ninja Ultima is a very nice blender, it is not quite a Blendtec or a Vitamix, but it really does pack a punch for a lower price point (around $300 retail) and out preforms any other regular blenders out there. Plus, I really love the 3 single serve blending cups that come with the blender, and I don't think that a system like that is offered by the high end blender companies.
One of the biggest differences that I found between the Ultima and the Original Ninja was that the original had a hard time getting my fruit and veggies completely blended. Because it only has the tall "crushing" blade the fruit seemed to fling to the sides of the jar more instead of being pulled down and blended. The Ultima on the other hand had no problem blending my fruits and veggies without chunks. (I did find that the Ultima left the strawberry seeds intact and some skins from my fruits and veggies were not completely broken down, but it did not bother me, but know that you will not be getting a completely smooth end product.

Another major difference between these two is the control panel. The Ultima has a manual dial system very similar to the Vitamix for total control of the blender speed. I love that I have control of the machine and turning the speed up or down depending on what I am blending. The original Ninja just has three speeds that you can use as well as a pulse.
I said it before, but I think my favorite part of this blender is that you can make individual smoothies in the 16oz. personal jar. They have lids that are perfect to enjoy your smoothie or close it up to store it for later. I feel like these individual cups really do set the Ninja Ultima apart from the rest. I also love that the 16oz. jars are perfect to blend up baby food!
I do have to add another warning here to please, please be careful with any Ninja systems as the blades are EXTREMELY sharp and I cut myself two times on the blades of my Ultima just during the past month of reviewing the system! The tall crushing blades are not locked into the base–they do fall out when you are pouring your mixture out of the blender. Be sure to remove them before pouring so that you do not accidentally get cut. Be careful when washing the blades also–that is how one of my injuries happened. I would also add that I would never let children handle or prepare food with this blender—adults only!
I do like that both the Ultima and Original have lots of great safety features, like the locking lid and that the jar must be fully locked into place before the blender will operate. I think these safety features were added to prevent any accidents from the sharp blades, but I appreciate the extra safety precautions none the less.
Both are good blenders, but the Ultima definitely gives you more options for blending and preparing food.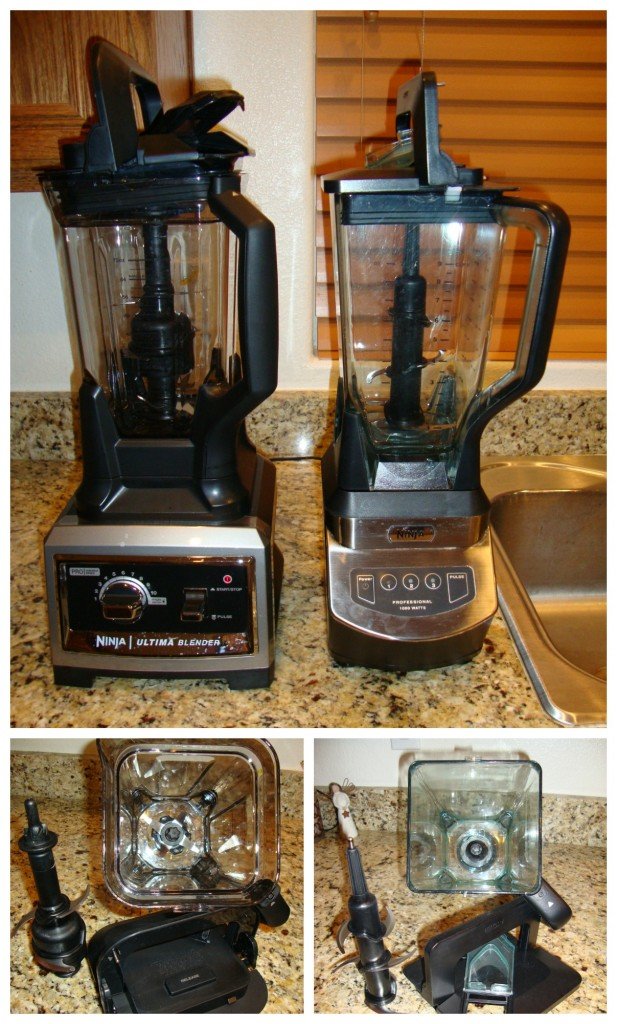 Here is a quick list of the product specifications of each blender:
Ninja Ultima™ Blender:
1500 Watt, 2.5 Horsepower Beyond Professional Blending

Total Crushing Technology to breakdown ice most whole fruits and vegetables

High Speed Cyclonic Technology to puree foods to an almost smooth state


Pro Variable Speed – 10 speeds plus Pulse

XL 72oz. Professional Blender Pitcher with Pour Spout

3 Pro Single Serve Cups with Sip & Seal Lids for drinks on the go

BPA Free and Dishwasher Safe
Ninja Professional Blender:
1000-watts professional grade motor for heavy duty blending and processing

Cord Storage

Generous 72-ounce pitcher

Ninja 6-blade technology

Pitcher, lid and blades are dishwasher safe
Buy:

To buy your own Ninja Ultima or Original Ninja blender visit the to look at all of the different models and packages they offer.

Thank you to Ninja Ultima for sending me a blender to review. All opinions are my own and 100% honest!