I must admit – I'm a little finicky when it comes to pasta sauce, so I couldn't wait to taste Dave's Gourmet gourmet pasta sauce.
But first, I must tell you a little bit . Like I've said before, I love a company with a unique starting history, and they are no different. After discovering hot sauce tamed the wild beast of an ugly drunk in a bar, Dave went out to create the hottest hot sauce in the world. From there came "Insanity" hot sauce which eventually became banned for being TOO hot (how about them apples!). 13 years later, Dave's Gourmet has gone from being a hot sauce specialty company to being a specialty food company that sells gourmet pasta sauces, drink mixes, spices, and so much more.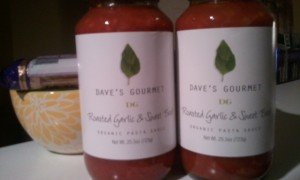 I received two bottles of the Garlic and Sweet Basil Gourmet Pasta Sauce to try and let me tell you this, not too long after finishing off those bottles did I go out and buy two more bottles! First of all, they smelled great – it smelled just like you want pasta sauce to taste like – spicy, but sweet and very tomato-y. Also, it's rich tasting but not too thick, which I really like.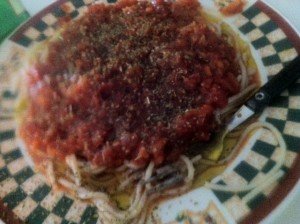 I did a really simple meal of gluten free noodles with the sauce (I also add some oregano, olive oil, red pepper flakes and parmesan too!) and it's such a simple, tasty, easy dinner. And boy did this sauce win me over! You can actually SEE the garlic pieces in the sauce and I loved every bit of it. I literally cleaned my plate and probably would have licked it if that wasn't rude.
Probably the only minor downside to this gourmet pasta sauce, if there is any at all, is the price tag. It usually sells for about $8.99 a bottle. So this isn't for anyone on a budget looking to save money as this is a little out of the price range I usually buy, but let me tell you, this is worth and it's just as good as anything homemade.
Follow: You can follow Dave's Gourmet via or .
Buy
:
You can purchase your own bottle of Dave's Gourmet via their (I also found them in my local grocery store, so make sure you check the pasta aisles for this brand)!
Win: One lucky winner will receive two bottles of the Garlic and Sweet Basil pasta sauce from Dave's Gourmet!




Thank you to Dave's Gourmet for sponsoring this post and giveaway. I received the products mentioned above complimentary in exchange for my honest review.