This super moist, rich dessert is a family tradition in our house during the holidays. My grandma, now affectionately called GiGi by my kids (short for Great Grandma) made this every Christmas since I can remember. When I take a bite of this desert it takes me back to when I was a child playing with my Christmas presents and my cousins at grandma's house. I can feel the warmth of the fire making the house cozy while it snowed softly outside. My parents and the other adults would sit and visit by the huge front window as the kids played downstairs and all was right in the world. As you can tell, this is not just a dessert for me it is walk down memory lane and I plan on carrying on this family tradition with my own kids.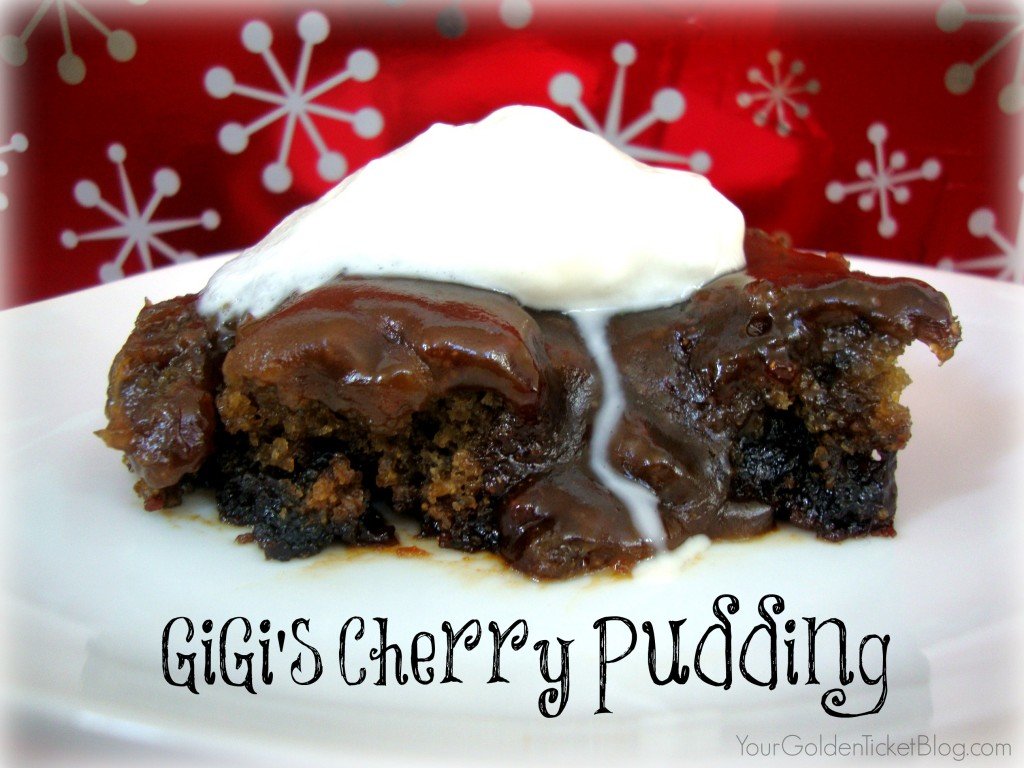 A few things to remember when you are making this dessert…
I come from a big family. My grandma always made a large pan of Cherry Pudding because she was feeding a crowd. You can easily half the recipe and make it in a 8×8 dish for a smaller gathering.

As I said before this is a rich desert–I mean really decadent so the serving sizes do not need to be huge–especially after a big meal. I usually say more is better but in this case a little goes a long way. 😉
This is a rustic cake so it will be messy and it will not look very pretty, but it tastes sooooo good! What makes it so yummy and moist is the cherry juice, but it also makes the batter look purple and not so lovely–don't worry about it. The finished product turns out fabulous! Trust me.
You have to use canned cherries! To be specific, Pitted Dark Sweet Cherries in a can. I showed you the brand I use to the right. Fresh cherries will not give you the results the canned cherries will for this dessert because you need the juice from the cherries.
GiGi's Cherry Pudding Recipe
Ingredients
2 cups suger
4 tablespoons softened butter
2 eggs
1/2 cup of hot water with 2 teaspoons baking soda dissolved in it
1/2 cup

Hodgson Mill White Whole Wheat

Flour
1/2 cup

Hodgson Mill Whole Wheat Pastry

Flour
1 cup

Hodgson Mill Organic Naturally White

Flour
1/2 tsp salt
2 cups Dark Sweet Pitted Cherries, plus cherry juice to fill the rest of the cup

For Sauce:

1 cup water
1 cup brown sugar
3 tablespoons

Hodgson Mill Organic Naturally White

Flour
2 tablespoons butter
2 teaspoons vanilla
Instructions
Preheat oven to 350 degrees. Generously butter a 9 x 13-inch baking dish.
Cream sugar and butter together.
Add eggs and water with dissolved baking soda, mix well.
In a separate bowl combine the flours and salt.
Add the flour mixture to the wet ingredients and mix well.
Add cherries with juice and mix gently till fully incorporated.
Pour batter into a buttered 9x13 baking dish and smooth out the surface.
Bake for 40 minutes, or until the top is golden brown.
The cake should not be jiggly. Do not over bake.

While cake is baking, make the sauce.

Combine the water, brown sugar, flour, and butter in a small saucepan.
Make sure to whisk ingredients together until flour is fully dissolved before turning the heat on or you will get lumps in your finished sauce.
Brig to a boil and whisk constantly while the sauce boils for 8 to 10 minutes, or until thick.
Turn off heat and stir in vanilla.
Pour hot sauce over the cake as soon as you remove it from the oven.
Make sure sauce is evenly spread over cake.
Allow to cool for at least 15 minutes.
Use a large spoon to serve the cake and top with fresh whipped cream.
Store left overs in the fridge.

It is excellent cold with fresh whipped cream on top. (That is usually how we eat it in my family).
http://yourgoldenticketblog.com/2013/12/gigis-cherry-pudding-recipe/
*
I altered my grandma's original recipe to fit the requirement of the Hodgson Mill "Have a GRAIN Holiday Contest" and to make this recipe a little more healthy without compromising the flavor.*
SAVE:

Get a coupon for

.

WIN:

Hodgson Mill is offering and it is open to the general public via Facebook. One winner will be selected to win every day for 25 days – winners choice of $25 worth of gluten free products or an assortment of whole wheat baking mixes and flours!
What is one of your traditional holiday recipes?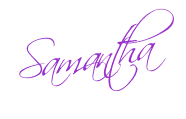 This post is my official entry in the "Have a GRAIN Holiday Contest". Thank you to Hodgson Mill for sending me the flour to use in my recipe. All opinions expressed are my own and 100% honest.