"Modest" and "Fashionable".. Those are the two words that I care about most when I am picking out an outfit. They are also two words that do not often go together; especially in the summertime.
Modesty is very important to me and my attempts to be modest and stylish can be extremely frustrating. Inevitably I end up wearing at least 3 layers which is a nightmare living in Las Vegas; especially in the summer. I've always wanted to find beautiful and modest tops and dresses that don't need any layering.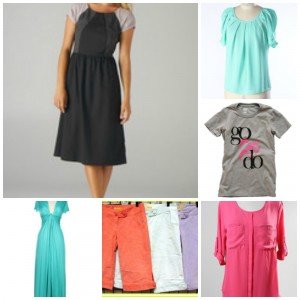 A few weeks ago I was beyond annoyed with the lack of options in my closet as the temperatures here were already over 100 degrees I started searching the Internet for options when I came across online. As I read about , the founder of ModestPop.com, and her frustration in wanting to find modest, fashionable clothing that didn't require layering I could instantly relate. The fact that a part of the mission for her company is to find and sell modest, stylish clothing at affordable prices is something that I really appreciated.
As I looked through her online store I was so impressed with the clean, fresh styles. Modest Pop carries tops, dresses, skirts, bottoms and accessories in standard as well as maternity and plus sizes. The selection is always growing and she offers incredible deals!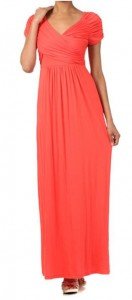 I had a hard time picking out an item to review but I decided on the . It is priced at $35, which is a total steal! I've had the hardest time finding Maxi Dresses with sleeves and was very excited about this one. It is perfect for a date night or even running errands. I love how easily it can be dressed up or down with accessories and that fact that it doesn't need any extra layers to be modest. The empire waist is a great cut on any body type and I just can't get over how breezy and effortless this dress is!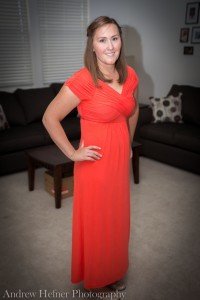 It has been a long time since I could wear a top or dress without extra layers and I was so glad that this dress exceeded my expectations. Initially I wasn't sure how I felt about the ruched sleeves but I ended up loving them! The fabric, like many summery dresses is a thin material which is great for summer. It wasn't sheer and would be great for packing but it can show lines of any extra layers. I am 5 ft 9 and many maxi dresses aren't long enough for me; this one was a great length. It was so comfortable! I ended up wearing it all day. I'm so glad I found this dress on Modest Pop!
Modest Pop has a great vision. They offer beautiful and modest pieces that are current and easy to wear. It really is worth checking out. I love that they offer a 20% discount for Missionaries and they have an email list that offers great insider deals and you can unsubscribe at any time. Modest Pop also has a . My favorite part about that is that Camille asks her customers for input and feedback. She cares about your opinion and wants to offer styles and sizes that her customers are looking for.
There are so many pieces I would love to get at ModestPop.com. I am looking forward to their selection continuing to expand. Go to their site and check it out!
FOLLOW:

You can follow Modest Pop on , and .
BUY:

You can find great pieces to buy directly from their . I am excited to announce that Modest Pop has offered a coupon code specifically for YGTB readers that will give you 20% off your entire order. The code is GOLDEN and it will expire July 15, 2013.
WIN:

One lucky YGTB reader will win a $20 Gift Card. Enter below for your chance to win!



Good luck! Thank you for entering our giveaways!

Special thanks to ModestPop.com for the review product and for sponsoring this great giveaway!
All of my opinions are my own and are 100% honest.