I am not a huge fan of household chores but laundry is actually something I enjoy doing! I love having clean clothes, seeing stains disappear from my kids' clothes and the organizational part of me lives for folding clothes. While I enjoy doing laundry I hate spending so much money on detergent and fabric softener. I also don't like the chemicals and dyes that are in my detergents! I have been looking into alternative options and that is how I heard about .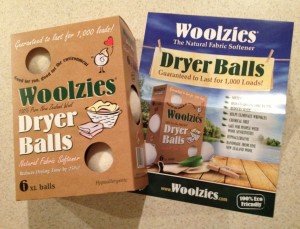 Woolzies are dryer balls that are handmade in New Zealand from natural wool fibers. They naturally soften your laundry without any of the chemicals that are used in traditional fabric softeners. Here are some of the things I love about Woolzies:
Soften Naturally
Reduce Drying Time By 25%
Reduce Static
Environmentally Friendly
Help Eliminate Wrinkles
Chemical Free
Safe For People With Wool Sensitivities
Hypoallergenic
Handmade From Fine New Zealand Wool
This is a long list of promises and I have to admit I was skeptical. I was worried that they would ding up my dryer or would make a lot of noise but it has lived up to all that it claims to be! My son and husband have very sensitive skin and I have noticed a big difference since switching to Woolzies. I was concerned about static but that has not been a problem at all. The only thing I miss is the scent of my fabric softener since Woolzies are scentless. Woolzies says that you can use essential oils to add that scent after the load is done on a no heat setting if you prefer having a scent. For me the only possible negative is that the dryer balls sometimes get mixed up in the clothes and come out of the dryer with my clothes. Right now I am missing one ball but the 5 are still working great and hopefully I will find the 6th soon.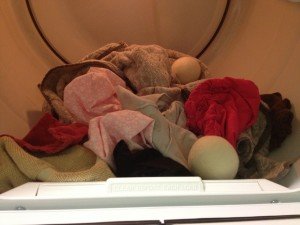 Woolzies is a better option than plastic dryer balls because it doesn't contain chemicals and will not melt. Woolzies also will not damage your dryers electronic sensors or stain your clothes.
Each box contains 6 large dryer balls and costs $34.95. It is guaranteed to last for 1,000 loads, which is amazing! I did the math and that is only 3 and a half cents per load! My old fabric softener did 220 loads per container. Woolzies costs the same as two containers of my old fabric softener and does more than 4 times the loads! It really does save time, energy and money. They will also be offering a smaller pack with 3 dryer balls on their website very soon. It is already being sold on Amazon along with their full size box.
My son loves helping me do laundry now. He puts the balls in the dryer and helps sort them out of the clean laundry. In our home we do 4 or sometimes even 5 loads of laundry each week. One box of Woolzies will last us about 4 and a half years! I am sold on Woolzies!
FOLLOW: You can connect with Woolzies on and .
BUY: You can buy your own box of Woolzies Dryer Balls directly from their or on Amazon.
WIN: One lucky YGTB winner will win their own box of 6 Woolzies Dryer Balls! Enter below for your chance to win!
Good luck! Thank you for entering our giveaways!

Special thanks to Soft By Nature for the review products and sponsoring this great giveaway!
All of my opinions are my own and are 100% honest.