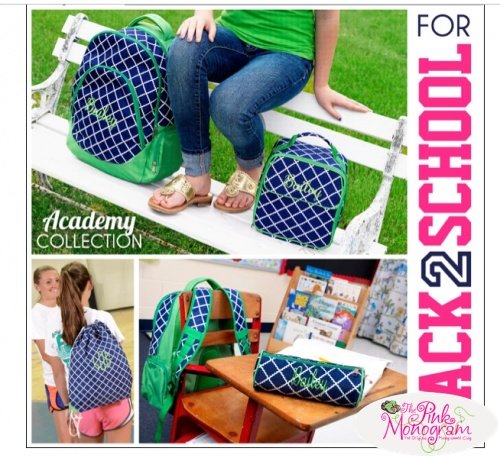 Who doesn't love having something personalized? I am a huge fan of personalized and monogramed gifts. When you receive a gift that is personalized you instantly know that there was thought put into it. I also love the way that having your children's things personalized makes it so easy for them to keep track of their things. Knowing that the school year is right around the corner and that my son will be starting school for the first time I knew that I wanted to get him something. I was looking online for companies that offer personalized products and I was blown away when I found . How cute is that name by the way?
The Pink Monogram was founded by Monica Smith who taught First Grade for over 20 years. Monica always had a drive to start her own business. She resigned over nine years ago and started her own monogramming/internet site and hasn't looked back.
In 2008 The Pink Monogram made the "O" list and had the fabulous honor of making Oprah's favorite in 2010 when their High Heel Monogrammed Clogs appeared in the July 2010 Magazine. Monica is passionate about The Pink Monogram and her excitement and energy is contagious. If you check out her site you can see how much time and energy has gone into finding amazing products that can be personalized. The Pink Monogram carries everything from jewelry to bedding and everything in-between. Here are some of my favorites:
I found the perfect backpack for my son in her back to school collection. We decided to go with the Monogrammed Black Sporty Diamond Backpack. Monica was kind enough to send us the backpack in small and full sizes along with the matching pencil case.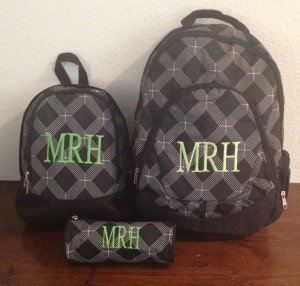 We love them all! The is perfect for outings and appointments. It is the right size for his water, snacks, and a few toys to fit comfortably. It is too small though to comfortably fit a full size folder or notebook. We take this small backpack almost everywhere and my son loves being able to carry his own things (and so do I).
The is PERFECT for school! I love that it is a backpack he can use for years to come. It also has a padded tablet compartment along with three other compartments with multiple pockets and storage. It also has a reinforced design and adjustable, padded, shoulder straps.
The is exactly what we had been looking for! It's not too big or too small. I was really impressed with what could comfortably fit in it. It would also work great for a travel makeup or toiletries bag.
Not only does The Pink Monogram carry an expansive selection of products, they also have 21 thread colors and 11 font and monogram styles to choose from. The colors and patterns are very true to how they appear on line. I am so glad that I know about The Pink Monogram! It is a perfect site to find wonderful things for back to school and I will definitely be checking back for holiday gifts!
FOLLOW:

You can connect with The Pink Monogram on , and .
BUY:

You can buy their products directly on their .
WIN:

On lucky YGTB reader will win the full sized Monogrammed Black Sporty Diamond Backpack and matching pencil case. Enter below for your chance to win!



Good luck! Thank you for entering our giveaways!

Special thanks to The Pink Monogram for the review items
and for sponsoring this great giveaway!
All opinions are my own and 100% honest!