Who doesn't love a great necklace? I am a sucker for beautiful statement pieces so when I came across Urban Peach Boutique online I was thrilled! They are a charming online boutique that carries quality, stylish pieces at affordable prices.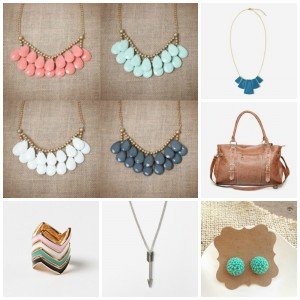 You can find a wide selection of accessories on Urban Peach Boutique's . They carry purses, statement necklaces, pendant necklaces, bracelets, earrings, rings and watches. Each one is beautiful, fresh and fun; they carry a wide variety of colors and styles. With such a wide selection I really hope that they continue to add more silver styles into their collection.
I love the way that the perfect accessory can spice up any outfit and I was so excited to have the opportunity to wear one of their necklaces. I chose the Turquoise Jewel Bib Statement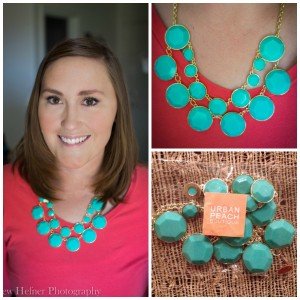 Necklace, which has two tiers of faceted jewels with a 16" gold chain. This necklace retails for $15.49 on their site. Considering the low price, I wasn't quite sure what to expect when I received it but I was extremely impressed. My kids are always playing with my jewelry and I was very happy to see that my necklace was easy to untangle and it held up so well to being pulled on and played with. The links are strong and the necklace is a great weight; heavy enough to know it's not cheep and light enough to be comfortable all day!
I'v really enjoyed incorporating this gorgeous necklace into my wardrobe. Since receiving this beautiful necklace I have had the chance to wear it several times and each time I wear it I receive so many compliments! It really is an amazing necklace. I'm so happy that I discovered Urban Peach Boutique and I can't wait to see what styles they come up with next!
FOLLOW:

You can follow Urban Peach Boutique on , , and .
BUY:

You can buy any of their beautiful pieces directly from their . Urban Peach Boutique has generously offered YGTB readers a promo code "GOLDENTICKET15" for 15% off your entire purchase! To make it even better, this code will never expire. Thank you Urban Peach Boutique!
WIN:

One lucky YGTB reader will win the Jewel Bib Statement Necklace in the color of their choice. All you need to do is leave a comment below telling us which color you would like your Jewel Bib Statement Necklace to be. Then you need to Like Urban Peach Boutique on and Follow them on . Please enter below for your chance to win!



Good luck and that you for entering one of our giveaways!

Special thanks to Urban Peach Boutique for the review product and sponsoring this great giveaway!
All of my opinions are my own and are 100% honest.