One of my favorite parts of my day is getting the mail. It may be a monotonous part of the day for most people but I love the feeling of getting a handwritten letter or a great package. I have been very curious about subscription boxes and was so excited to having the opportunity to review .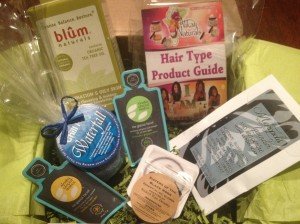 Green Grab Bag is a monthly box that contains at least six natural beauty products every month. I love the fact that the products they offer are natural, organic and vegan. These kinds of products can be hard to find and I really appreciate the idea of being able to try out a variety of products each month without having to pay for full sizes of the products.
In my box I received:
1- Sample soap from Metropolis Soap Co.
2- Essential Oil Blends from Sisters of the Black moon by Naked Eye Beauty
1- Box containing 10 Blum Naturals Cleansing Towelettes
1- Full size Hydra Soap Chill Pill
2- Mineral Mud Mask samples from Alaska Glacial Mud Co.
1- Travel Size Alikay Naturals Leave-In Lemongrass Conditioner
The idea of having a package arrive monthly is something I absolutely love! It would be like a mini-birthday each month! Beyond allowing you to try different beauty products I love that they offer deals and discounts on full size products on their site. This is wonderful because not only does Green Grab Bag introduce you to new products, they can help save you money when you find a product that you want to buy more of!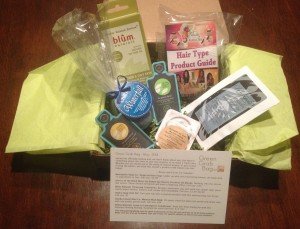 The presentation of the box was wonderful! It was small enough to fit in my mail slot but was packed to the brim! It was so fun looking through the products and reading about each one. They include a card in each box that explains exactly what is inside. There is no way that I would have heard about some of the companies if I hadn't received this box. The only negatives that I found were that in this specific box a couple of the samples were pretty small but it definitely balanced out with those that were larger in the box. I also had one item in my box that isn't something I would normally use; but it was fun to try it out.
Overall I loved my experience with Green Grab Bag! One of my favorite products that I tried was the Hydra Soap Chill Pill. It's an amazing moisturizing bath fizzie. I even told my husband how much I loved it and he ended up taking a bath and used the other half!
Green Grab Bag also has a unique feature that lets you build your own custom box from their selection of samples, travel and full sizes. You can also create different sized boxes so you are in control of the products and quantities you receive. I think this a great feature if you are looking for a specific type of product or want to make a gift for someone including your favorite products. This would also help you avoid getting a product that isn't a type of product you would want to buy.
I'd love to hear from you. Have any of you ever tried a beauty subscription box? What was your experience? If not are there any you are interested in trying out?
FOLLOW:

You can follow Green Grab Bag , and .
BUY:

You can find out more about Green Grab Bag or sign up for their on their website.




Special thanks to Green Grab Bag for the box to review!

All of my opinions are my own and are 100% honest.