Oriental Trading has been my go to for years! Whether it is for a birthday party, holiday, craft or school supplies Oriental Trading is my first stop.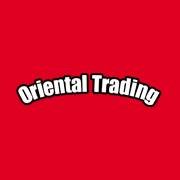 With summer around the corner I turned to
Oriental Trading
to find fun summertime activities that would be perfect for a family barbeque with friends or family time at the park. There were so many options! We finally decided on the Backyard Toss Game, Bocce Ball Set, Dodge Ball Set and Bean Bag Toss Game. We got together with all of our cousins that live here in town and the kids played with the
Dodge Ball Set
. These vests fit well for children about 6-9. Our kids are younger so we had to adjust the straps a little bit but they had a blast and I love that it is something we will be able to use for years to come! It was so fun to see them having such a great time being outside, playing together. It's currently priced at $11.88 for a set of six, which is a steal!

It can be so easy to get stuck inside with the TV on in the summertime so I am excited to have these fun, convenient activities available. We are going to make a lot of fabulous memories!
Summertime is also a great time to keep working on skills in-between school years. Oriental Trading is a fabulous resource for manipulative and learning activities. We decided on Base Ten Counting Blocks, Short Vowel Puzzles and Monkey Marketplace Find the Sound Center. All three are reinforcing skills that we have been working on. Who doesn't love base ten blocks? They can be used to visualize counting, regrouping, borrowing, etc.

My son is a big fan of the Monkey Marketplace Find the Sound Center. I love that the entire kit fits in one gallon size zip lock bag for easy storage. The Short Vowel Puzzle is ice cream cone themed, which is fun for the summer. Each of the cones fits with allof the ice cream pieces. At first I didn't like that but actually it has been good in many ways because more than one vowel can complete a word. For example p_n could use an 'n', 'u' or 'i'.

Thanks to Oriental Trading we are sure to have a fabulous summer full of learning and excitment!
CONNECT:

You can connect with Oriental Trading on Pinterest, Facebook and Twitter. Be sure to check out their Pinterest boards for fun and festive ideas for every occasion.
BUY:

You can purchase their products directly from their website.

This review is based strictly on my opinion.

I was provided the samples free of charge by the company or PR agency and I provided my honest opinion.

No other type of compensation was received for this review.