One of the best parts of summer is S'mores around the campfire. Here in FL we can pretty much do this year around. However not everyone can have warm nights and bonfires so here is an easy way to get your favorite summer treat without fire adn bugs.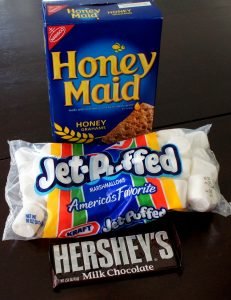 Ingredients
1/2 tablespoon butter
1 1/2 cups chocolate chips (semi-sweet, milk chocolate, or a combo)
15 jumbo marshmallows, halved or minis
Graham cracker squares
Instructions
Preheat oven to 450 degrees.
Pour chocolate chips into an 1-cup ramekin.
Arrange marshmallow halves on top. Place in the oven.
Bake until marshmallows are golden-brown, about 6-7 minutes.
Remove from oven. Let cool slightly.
Serve with graham crackers for dipping.
http://yourgoldenticketblog.com/2016/08/smores-dip/