Looking for a quick and easy dip to serve to company or family gathering. Well look no further for I am going to give you me recipe fro a delicious 7 layer dip. this will sure to please everyone.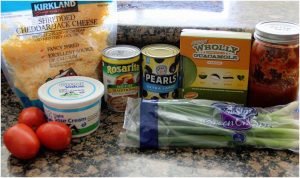 Ingredients
16 ounces refried beans
1 (1 1/4 ounce) package taco seasoning
1 cup sour cream
1 cup guacamole
1 cup salsa
1 cup lettuce
1 cup Mexican blend cheese
4 ounces sliced olives
1 cup tomatoes
Instructions
Layer in this order.
16 oz refried beans mixed w/ 1 package taco seasoning.
1 c sour cream.
1 c guacamole.
1 c salsa.
1 c lettuce.
1 c Mexican cheese.
4oz sliced olives.
1 c tomatoes.
Notes
I ran out of lettuce so I used green onions it still tasted amazing.
http://yourgoldenticketblog.com/2016/08/7-layer-dip/