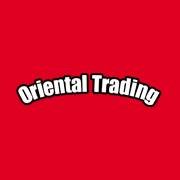 Holidays are always exciting but they can become overwhelming. has made my life so much easier while making our holidays more memorable!
I have gotten gable boxes from Oriental Trading before. Their selection is amazing and they are the perfect size for giving little treats and gifts to neighbors and friends during the holidays! I love the Christmas Wreath Treat boxes that come by the dozen breaks down to only forty cents each! They have a little window opening on the two large sides, which I think is a lot of fun. I also got the Christmas/Winter Paper Pack that is an assortment of festive and colorful 12×12 inch paper that is perfect for Christmas crafts and card making. They have so many ideas of crafts and projects on the Oriental Trading Website! It is a great resource if you are looking for fun, creative and reasonably priced projects.

My son wanted to get Zombie Pencils. Not exactly holiday inspired but his eyes lit up like Christmas morning when the package arrived! They are fun pencils and I tutor middle school age students and they are crazy about these pencils too! As with most pencils that have a plastic wrapped design the plastic can fray a bit as you can see in the picture. This is a common pencil problem so it wasn't a big deal. My little guy was over the moon about the Marshmallow Blow Blasters! They fit mini marshmallows and are good for lots of fun as we go to battle with the marshmallows! He gave these as gifts to some of his friends and they were quite a hit!

For a few weeks now that hot chocolate season has really begun my daughter has been asking for a plastic mug. They were harder to find than I thought but as usual Oriental Trading had what I was looking for! These fun, brightly colored smile face mugs have been so much fun and are a great size for kids.

Personally my favorite ornaments are the ones with pictures and Oriental Trading has so many different options and styles! I love the Christmas Character Picture Frame Ornaments. There are four different styles and you receive three of each. A couple of them were missing a mitten or small accessory, which was a bummer but we didn't need all twelve. I recommend rounding up on these if you need close to the dozen that it comes with. My daughter fell in love with the Mini Melted Snow Slime. It comes with forty-eight packages with different expressions! There were enough for her preschool class and a lot of her friends and neighbors.

When I saw these Light-Up LED Shutter Shading Glasses I knew that my son would love them! His face says everything about how much we love Christmas and Oriental Trading! I hope you have a very happy holiday season!

CONNECT:

You can connect with Oriental Trading on (seriously, check out their boards for amazing ideas), and .


BUY:

You can purchase their products directly from their .