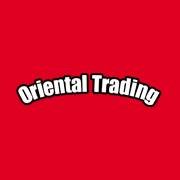 My favorite holiday is the Fourth of July for many reasons. For as long as I can remember it has always been a large celebration for us and now I love it even more because it is my daughter's birthday! This summer is particularly special for us because we have extended family coming in town for the big day. Knowing that I am going to have a lot of kids around for such an important day I turned to to help me get the right things to make this a day they won't forget.
Oriental Trading has an amazing selection of patriotic items that are perfect for any 4th of July party. Here in Las Vegas it gets hot, very hot and my daughter is obsessed with fans. We plan to go to a parade in the morning and I thought the Stars & Stripes folding fans at $3.75 a dozen were a total steal. Speaking of fans, she fell in love with the Black Lace Fan, which is much larger and sturdier. I got it for her to put in her dress up box and she has been having a great time with it. My kids were insistent that they get the Patriotic USA Candy Bracelets for the parade as well. These were also a great deal. A couple in the pack had the letters out of order but the kids tried them and said they were tasty.
For the evening fireworks and festivities we thought it would be fun to get some Red, White and Blue Glow in the Dark Glasses and Patriotic Expanding Light-Up Swords. These compact light-up swords are my kids' favorite item that we chose for our celebration. I know that these will be a big hit on the big day with both the kids and adults.

Along with it being a very significant national holiday it is also my little princess's birthday. She wanted to be sure to give her friends something not patriotic and royal as well. She chose the Mini Heart Wands for the girls. I love that they are small and come in a variety of colors. For the boys at her royal celebration we decided to get the Inflatable Swords. In my opinion it was the perfect solution. We have had and been to several parties where hard swords were given as gifts and the kids inevitably start to sword fight. My children were having a great time trying these out and I loved that neither of them got hurt.

Speaking of inflatables, Oriental Trading has an inflatable item for just about any theme you can think of. My son has a birthday around the same time and he wanted to give his friends Small Inflatable Guitars for his birthday. We also had Rock Star/Crazy Hair Day at school and these were a big hit with my children and their classmates. My son especially had a great time rocking out!

If you haven't yet taken time to check out Oriental Trading's selection of patriotic items you really should. They have wonderful games and decorations along with many including wreaths, centerpieces and food that is delicious, patriotic and fun.
When I am brainstorming for any celebration or project I have learned to start my search at Oriental Trading. Right now through May 30th you can get free standard shipping within the contiguous US, APO and FPO with your order of $49 or more with the code OTC165366.
CONNECT:

You can connect with Oriental Trading on (seriously, check out their boards for amazing ideas), and . Be sure to check out their Pinterest boards for fun and festive ideas for every occasion.


BUY:

You can purchase their products directly from their . Don't forget to use the code OTC165366 to get free shipping on your order of $49 or more.

This review is based strictly on my opinion.
I was provided the samples free of charge by the company or PR agency and I provided my honest opinion.
No other type of compensation was received for this review.