Since I'm a writer, I'm always on the look out for new pens I can try and I couldn't wait to share my experience with the Shoplet sharpies and pens! This is my first experience with Shoplet products and I highly recommend using them because they encourage their customers to stay as green as possible and consider the environment for some of the products you buy. I love companies that work towards improving our quality of our planet!
Now, back to the review!
I received a Sharpie premium pen, a pack of Sharpie neon permanent markers and a pack of Sharpie metallic permanent markers.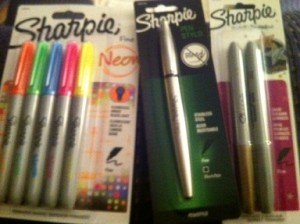 I absolutely loved the feel of the premium pen. It felt heavy in my hand but as I wrote, it was fluid and smooth. I love writing stories in my free time and since I handwrite, I use a lot of different pens. My biggest complaint is pens usually smear or run out of ink too fast. I used this pen pretty heavy duty over the last few days and I loved it! Probably the only downside is I couldn't find a way to buy the refillable cartridge on the website, even though the pen is refillable.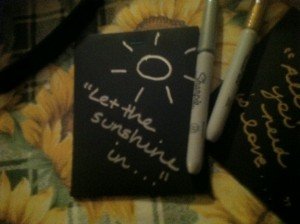 As for the other markers, I loved LOVED the metallic permanent markers and I honestly think this is the best way to write a phone message or leave a quick note for someone because these babies stand OUT. I personally like the gold color of the metallic markers as it had much more "wow" factor than the silver. There isn't much of a negative to say here except that I will probably need to make an active effort to buy black notebook paper or construction paper to use these.
Last but not least the neon permanent markers. These actually made for some fun creative inspiration over the weekend. My mom and I share sort of a "doodle" notebook and we both got down some pretty fun artwork using these pens. Not to mention the awesomeness that happened with these sunglasses –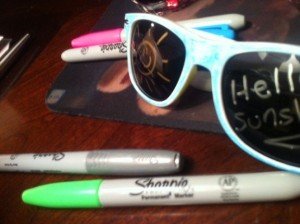 Probably the only thing I didn't like about the neon sharpies is that certain fainter colors were a little hard to see. But these would make fantastic pens to use for any projects coming up for Easter, so I highly recommend purchasing a pack for the kids or any kiddo relatives you have coming over for the holiday.
Follow: You can follow Shoplet via Facebook, Twitter, or Pinterest.
Buy: You can purchase the premium pen, neon permanent markers,  or metallic permanent markers by visiting Shoplet.com. 

Thank you to Shoplet.com for providing me with the above products in exchange for my honest review.