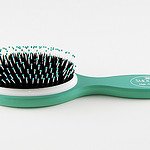 Do you ever have the battle of brushing your daughter's hair? It goes something like this: "ouch that hurts…." Even when I am positive I am being extremely gentle, a tangle will eventually arise, bringing my daughter to tears. Luckily, there is a brush on the market that can fix that, and SMOOBEE is that brush!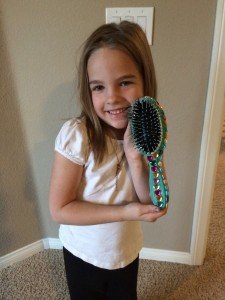 As soon as we received the brush we immediately opened the package to try it out. To my relief, this brush really is as magical as it sounds! My daughter said she noticed an immediate difference with her Smoobee brush. There were no more tears, no more fear of brushing her hair.
The Smoobee brush comes in 3 different colors (pink, purple, and teal). It is a sturdy, durable brush as its handle is made of real wood. The bristles are a combination with plastic and brush so they work well to prevent tangling. Sometimes it makes dry hair a little static with brushing but this is easily fixed with smoothing gel.
We tried the brush on wet and dry hair, and sure enough, no pulling or tangling! The Smoobee brush also has the option to personalize the brush with some bling jewels, which my daughter LOVED.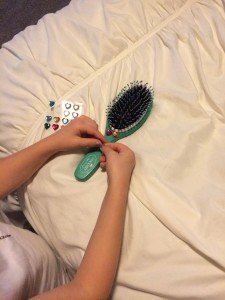 My overall opinion on this brush is that is it worth it. I even tried the brush out on my hair just to see if I noticed a difference, which I did. Now that we have the smoobee brush I do not think we will ever be able to go back to our old brushes. Love this product!
Follow: You can follow Smoobee on , , and
Buy: You can check out all the Smoobee hairbrush online and at major retail stores nationwide.
Win: One lucky Your Golden Ticket Blog fan will win a Smoobee hairbrush of their own! Enter below to win.
Special thanks to Smoobee for the products that were sent to be reviewed.
All of the opinions shared are my own and are 100% honest!
Disclaimer: All opinions expressed in this review are my own are not influenced by monetary compensation.