Disclaimer: The products in this review were provided to me free of cost for the purpose of conducting this review. All opinions expressed in this review are my own are not influenced by monetary compensation.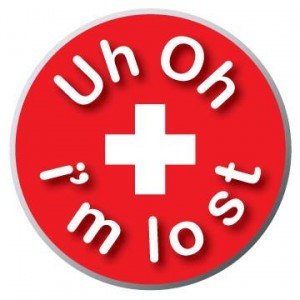 Like every other parent out there my biggest fear is having anything happen to my children. is a family-owned and family-run company that is on a mission to keep kids safe.
Last year we went as a family to an amusement park and for weeks before this adventure I was terrified of one of my children getting lost. I was also concerned that they would not be able to communicate or remember our information if that happened. I researched different options and found everything from leashes to writing your phone number on their body with a marker. I knew there had to be something better; thankfully the people who started Uh Oh Bands felt the same way.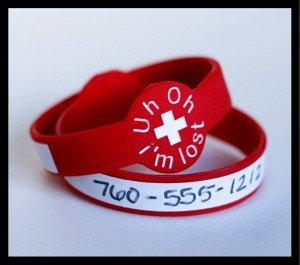 What is an Uh Oh Band? Uh Oh Bands are a strait-forward silicone bracelet that has a spot for you to put your phone number. Uh Oh Bands uses the phrase, "Uh Oh, I'm Lost" as a non threatening way for kids to tell an adult that they are lost and need help getting back to their parents. This phrase is paired with the international symbol for first aid as a quick call to action. I love the fact that they only put the phone number on the band. This keeps those who don't have the best intentions from being able to use your child's name as a false sense of familiarity.
Uh Oh Bands are:
Waterproof
Durable
100% Silicone
Allergen Free
Comfortable
Designed by a Mom
They are also perfect for children who have a hard time remembering or communicating their contact information. Uh Oh Bands also has with a writable strip where you can write your child's allergies as a reminder at day care, school, slumber parties, camp, etc. These are also available in an adult size.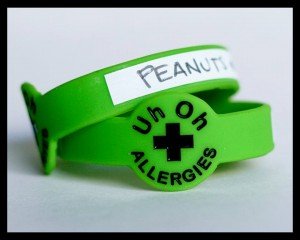 Obviously, the Uh Oh Band on its own isn't enough to keep your child from getting lost on its own but it is a wonderful, easy tool to help you get back to your children quickly and safely. The Uh Oh Bands are available in 4 colors. My son loves that his glows in the dark! These bands come in one size that is small enough for toddlers and stretchy enough for older kids. The allergy Uh Oh Bands are available in two sizes (kids and adults) with one color for each size. The colors are wonderful but I do hope that they come out with some more options as well. I was concerned that the kids size would be too big for my daughter since she is under 2 but it comfortably fit both of my children and I could see it fitting them for years to come.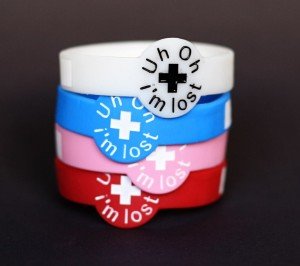 Uh Oh Bands have a wonderful fundraiser program where the school will receive $5 for every band sold. How wonderful is that?! We love our Uh Oh Bands and I am crazy about this company on a mission to keep kids safe!
FOLLOW:

You can connect with Uh Oh Bands on .
BUY:

You can purchase Uh Oh Bands directly on their . Uh Oh Bands are $10 but if you place your order before this giveaway ends you can use the code: goldenticket to save 20% off your order! Thank you Uh Oh Bands!
WIN:

One lucky YGTB reader will win their own Uh Oh Band! Enter below for your chance to win!



Good luck! Thank you for entering our giveaways!

Special thanks to Uh Oh Bands for the products to review and for sponsoring this great giveaway!
All of my opinions are my own and are 100% honest.