I have discovered a great new snack that I am excited to share with you. The best part is that it is a HEALTHY, gluten free, cholesterol free, preservative free! Welcome to the wonderful world of
SKINNY POP
; a delicious "guilt free" popcorn snack worth trying.
When I received my case of Skinny Pop to review, I opened it right up and sampled it with my kids. Loved it! A definite winner! I sometimes worry about "healthy snacks" compromising taste but this is not the case with this popcorn. It is a satisfying snack you do not have to feel guilty to eat.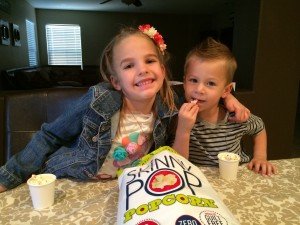 What's great about Skinny Pop is that they have different flavors and are coming out with more. This popcorn is sold in stores such as Walgreens and Smiths.
I am officially hooked on this popcorn. I sent some to school with my daughter to share with her class and she said everyone loved the popcorn. I also sent some to my son's nursery class and the little guys ate it up!
You can win your own supply of Skinny Pop popcorn, courtesy of Skinny Pop. Just enter below!
Follow: You can follow SkinnyPop at and
Buy: You can check out their online or purchase SkinnyPop Popcorn at Walgreens and Smiths stores nationwide.
Win: One lucky Your Golden Ticket Blog fan will win a box of SkinnyPop Popcorn of their own! Enter below to win!
Special thanks to Skinny Pop for the popcorn to review and for sponsoring this great giveaway!
All of my opinions are my own and are 100% honest