I love spending time getting ready. Putting on makeup while listening to music and figuring out new tricks while playing around with colors to achieve different looks. Since having kids I have much less time to experiment with makeup and I care a whole lot more about what is in my makeup and how it will affect my skin. A few weeks ago Dr. Hauschka Skin Care sent me several different cosmetics to review. In 1967 Dr. Hauschka Skin Care was introduced with its revolutionary perspective that beauty and skin heath are connected. is certified natural and is a full line of skincare and decorative cosmetics that are formulated to restore beauty by working with your skin to restore balance and bring about lasting beauty.
I received an Eyeshadow Solo. The Eyeshadows are available in nine stunning shades. I got the , which I absolutely love! It is a subtle, silky neutral that lightly accentuates your eyes. I blended it with a brown shadow that I already had to achieve depth. I never get away with only using two shadows on my eyes! This eyeshadow blended beautifully. It has a silk and talc powder base that helped it go on smoothly and evenly without clumping in the creases. Dr. Hauschka's Eyeshadow Solo's are priced at $19.95 each and offer a good amount of shadow. I also like that the individual shadow has a mirror for easy application anywhere. The eyeshadows are also available in a palette for a better deal of $44.95 for four shadows.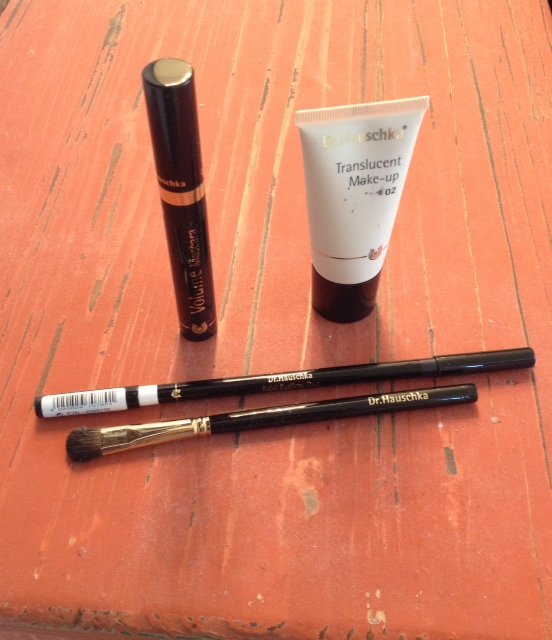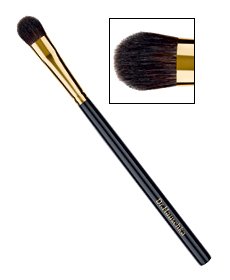 Along with the eyeshadow I also received the . This professional quality brush is a straight forward go to brush that is perfect for applying and blending shadows easily. The right tools make such a difference! This Eyeshadow Blender Brush is priced at $27.95. I have used similar brushes from major brands and this one worked every bit as well and the bristles are extremely soft!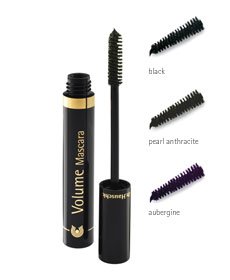 I was very excited to try the . I usually use black mascara but instead received the Aubergine, which is a purple shade. At first I was hesitant about a purple shade of mascara but once it was on it looked like more of a softer black, which I actually preferred to a harsh black. With my coloring it is perfect for a natural, clump-less look. The Volume Mascara is available in three shades and sells for $29.95.
I also received the . It was extremely gentle and translucent. It evened out my skin tone without clogging pores or being thick. This translucent make-up is made using a blend of mineral pigments that even out skin pigmentation along with plant oils and waxes that moisturize and protect. My skin is sometimes sensitive but this Translucent Make-up was extremely gentle and left me with a dewy look. I could feel a slight tingly feeling when I put it on (in a good way); I could feel that it was good for my skin. The Dr. Hauschka Translucent Make-up is priced at $36.95 for a 1.o Fl. Oz. bottle.

was my personal favorite. It is a pencil duo and is available in two color combinations. I received the gray/white. The gray is very dark and is more of a charcoal. So often pencil eyeliners break easily or don't apply smoothly but this one from Dr. Hauschka absolutely did! I love that it is paired with a white eyeliner which makes your eyes appear bigger and brighter when it is applied to the inner lid. This Eyeliner Duo is priced at $29.95.
Dr. Hauschka's cosmetics are wonderful for your skin but have a price tag to go along with it. They are much better quality than drug store brands so if you are in a position to splurge on quality cosmetics I would absolutely recommend Dr. Hauschka! They have a full line of skincare for all skin types that are designed to help you improve your complexion, not just cover it up. Dr. Hauschka creates quality products that allow people to care for their skin using natural products that accentuate your natural beauty inside and out.
CONNECT: You can connect with Dr. Hauschka Skin Care on and .
BUY: You can purchase Dr. Hauschka products directly from their .

Special thanks to Dr. Hauschka for the products to review!
All opinions are my own and are 100% honest!