I hate that moment at the end of a long day when I look in the mirror only to discover that my makeup has smudged and is a total mess. Then I find myself wondering how long it has been like that and how many people have seen me with my smudged and fading makeup. Recently I had the opportunity to try out the Pretty in Smoke from IT Cosmetics and it was unbelievable!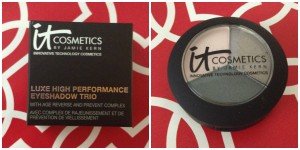 The shadows blended perfectly and stayed on all day long. has a line of "Naturally Pretty" Luxe Eye shadow Trios. They are a collection of waterproof, high performance shadows that are infused with anti-aging and age reverse technology. The shadows are packed with hydrating ingredients that are wonderful for your skin including hydrolyzed collage, green tea, acai and vitamins A, C and E. It is also paraben, oil and fragrance free. I love that the eye shadow trio is hypoallergenic as well.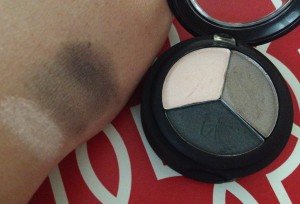 I chose the Pretty In Smoke Trio, which has a soft light pink, neutral beige smoke, and rich gray satin shadows. When I first applied the shadows I was immediately impressed with how smoothly they went on and how well the colors blended. Each shadow has a beautiful color and I really appreciate that you don't have to apply layer after layer to get the right effect. The shadows can be used dry or wet as eye shadows or as eyeliner, which is fabulous!
IT Cosmetics works with leading plastic surgeons to create extremely cutting edge anti-aging, high performance cosmetics. The quality is obvious! I have several shadows that are more expensive and less effective. IT Cosmetics Eye Shadow Trios are perfect for your makeup bag! They are especially perfect to take when you are traveling because they are compact and long lasting.

At the end of each day that I have used my IT Cosmetics Eye Shadow Trio I get so excited when I look in the mirror and see that my makeup looks exactly the same as it did when I put it on that morning. It even stays in place after the pool! Initially I was concerned that it would be a challenge to get off or that it would feel sticky or greasy but that has not been the case. It comes of when I want it to and leaves my skin feeling wonderful! I cannot wait to try more makeup from IT Cosmetics.
FOLLOW:

You can connect with IT Cosmetics on , and .
BUY:

You can purchase IT Cosmetics products at QVC, QVC.com, SkinStore.com, Beauty.com, Soap.com or directly from their .

Special thanks to IT Cosmetics for the wonderful makeup to review!
All of my opinions are my own and are 100% honest!