My family moved into our new home seven months ago and we love it! As much as I love our home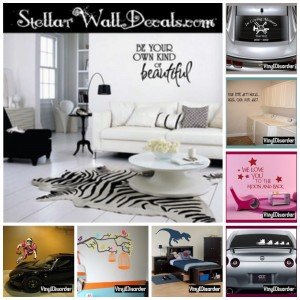 it's been taking a while to make it our own.  I've been looking for ways to personalize our spaces without spending a lot of money or damaging the walls.  I decided to use vinyl but was having a hard time finding a quality site to use. Many of the sites that I found had limited options and/or big prices.
Then I found Vinyl Disorder. Their selection is HUGE! They have so many options from graphics and quotes to stickers and printed canvases all at wonderful prices. I love the fact that they offer custom designs and that everything you order is made when you order it. I also love that even if you pick one of their designs you still get to customize color and size. You can also choose if you want it on car or wall vinyl.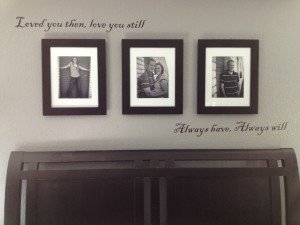 I was excited to have the opportunity to do a review of Vinyl Disorders products and as I browsed their selection I immediately knew which one I wanted to review. There is a quote that my husband picked out for our bedroom in our old house and we were sad to leave it behind in the move. I found the quote very quickly on their site and was excited to surprise him with it.
The shipping time was impressive, especially since they make each piece to order. When it arrived it came with very clear, concise directions including a phone number if you had any questions.  It took me less than 30 minutes to get it up by myself. I've worked with vinyl many times and was extremely impressed with how easily it went on in spite of my textured walls.
It's been several weeks since I put the vinyl up and I'm always amazed how such a simple change can have such a big impact on any space.
BUY:

You can buy any of their great products on their website.
WIN:

One lucky YGTB reader will win the 23" decal of their choice (no specialty vinyl). Enter below for your chance to win!
Good luck! Thank you for entering our giveaways!

Special thanks to Vinyl Disorder for the review product and sponsoring this great giveaway!
All of my opinions are my own and are 100% honest.