There is a fine line between getting enough fruits and vegetables to be stocked up with healthy options in your fridge and having to throw money away on produce that goes bad. I love having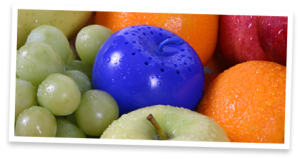 fresh produce but hate how quickly the foods get mushy and rotten. Government experts have estimated that a family of four throws away as much as $600 a year in produce that has gone bad.
I came across the Bluapple online and was completely intrigued. It claims to prolong the life of your produce by absorbing ethylene gas, which is given off by all living plants, effectively prompting the food to ripen faster. As this happens we end up wasting a lot of expensive produce and making more trips to the store.
I was very excited to have the opportunity to review the Bluapple. I put one in my fruit drawer, one in my veggie drawer and waited. After about 14 days I have noticed quite a difference in my vegetables, especially my celery. It is still crisp and fresh which is amazing because it usually goes limp after a week. Blackberries are also one of my favorite snacks that usually spoil fast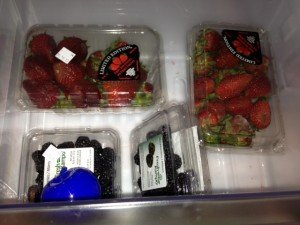 but they are still going strong. My strawberries however did not fair quite as well. They actually started to go bad after 9 days. In all fairness they were pretty ripe when I bought them and the Bluapple was on the opposite side of the drawer. I think that if they had been fresher when I bought them and if the Bluapple had been better centered in the drawer, they would have held up for longer.
Overall, I am very impressed with the Bluapple. I have no doubt that it will pay for itself in no time. It obviously doesn't prevent food from molding all together but it does slow down the process; which is amazing. The only con that I could find was that my son wanted to play with it and moved it around in the drawer. As the days went on he was more willing to let it do its job. We are very happy with the Bluapple in our home and look forward to continuing to use it and have our food stay fresher for longer!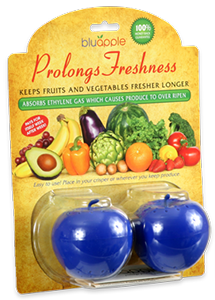 Buy it:

The Bluapple costs $9.99 and will work for 90 days. You can then purchase a 12-month supply of refills for $9.99. You can buy the Bluapple directly on their .
Win it:

Three winners in the US/Canada will each receive the Bluapple Two Pack! Enter below.

Good luck and thank you for entering our giveaways!




Thank you Bluapple for the review items and for sponsoring this giveaway!
The opinions are my own, based on my personal experience with the product.