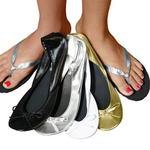 OK , Ladies you are going to
Love
this review and giveaway. Shoes and not just any shoe these are called rollable flats . You can find these affordable and cute shoes at .
What is a rollable flat? Rollable flats are a light weight dressy style flat for women. They are completely foldable to put in your purse, back pack whatever you need.

Rollable Flats are available in five cute colors (red, white, silver, gold and black) and sell for just $9.99 each. Each pair comes in a box along with one large bag to put your heels in.
My Thoughts
~
I require a really light weight shoe or my feet kill me in just a short time. These are so light weight you barely know they are there and comfortable too. I received the black and silver pair of rollable flats and although I don't think I would wear silver ever day I think they are perfect for the upcoming Holiday season . These shoes are so versatile you could wear them with jeans or a dressier outfit just fine. I shared them with my daughter and her friends (age 16) to see their reactions . The girls loved that they could just throw them in their bags and have a change of shoes when needed.
They thought they were perfect for when you were going to be running around and wanted to change from your work out or school attire to something cuter. I agree. They also thought they would fit easily into their very small lockers. I really like the fact that they are very portable and great for dressing down or up whatever mood prevails. I could have really used these when I was working to have on hand when those high heels started making my feet ache. .
BUY
: Visit to purchase and use promo code
"Golden"
to receive
10% off
WIN: 2 lucky Your Golden Ticket readers will receive a pair of foldable shoes just fill out the easy rafflcopter form below.
disclosure: I received Free products in exchange for my honest review. All opinions shared are 100% my own.
Thank You Back Up Soles for review and giveaway products provided.