My family loves to travel a lot and to have dinner with friends and extended family as often as possible. I cannot tell you how many times I have eaten with one (or both) of my children in my lap. Knowing that we had a trip planned I was looking for a solution to our dinner time challenge and I was very excited to have found My Little Seat. is a fabric travel highchair that can fit on round or square back chairs. It even has holes for chair poles! I love that My Little Seat is the safest travel highchair with a five-point harness system. It really is a secure and comfortable option for your little ones.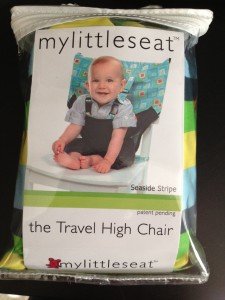 The fact that My Little Seat is made of double thick fabric makes it lightweight and durable. One of my favorite features of My Little Seat is that it is machine washable! How wonderful is that? I also love that it comes with its own little traveling bag that easily fits into a diaper bag. My Little Seat is for children about 6 months old up to 35 pounds. It only takes a few seconds to get it set up and I absolutely love that it allows my little on to sit with us at the table. It is amazing to see how happy she is when she gets to sit with us and be a part of the action at the table.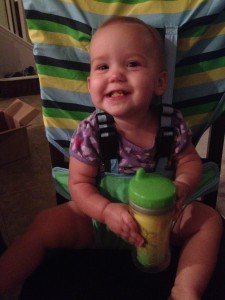 My Little Seat is perfect for traveling because it is extremely compact and easy to set up. It can actually fold up to be about the size of a diaper! I love using it when we are somewhere where there are not available high chairs. It is also perfect to use at restaurants when the highchairs look questionable, which, let's be honest, is most of the time.
It is such an effective and practical solution that I have used My Little Seat more than I ever thought I would! Honestly, my daughter loves her seat so much we barely use her high chair anymore. My Little Seat is a perfect gift for a baby shower or new mom. It is available in such fun patterns and designs that they get a lot of attention. I wish that I had known about it when I had my son!

FOLLOW:

You can connect with My Little Seat on and .
BUY:

You can purchase My Little Seat directly from their for $29.99. You can also use their retailers tool to find near you.
WIN:

One lucky YGTB reader will win a My Little Seat of their own! Enter below for your chance to win!



Good luck! Thank you for entering our giveaways!

Special thanks to My Little Seat for the product to review and for offering this great giveaway!
All opinions are my own and are 100% honest!