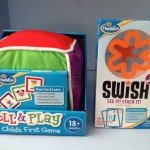 My family loves doing things together and playing games is a fun way to spend quality family time. Since having children we have been looking for games that are engaging and age appropriate for our children that are still fun for all of us. I was very excited when I discovered .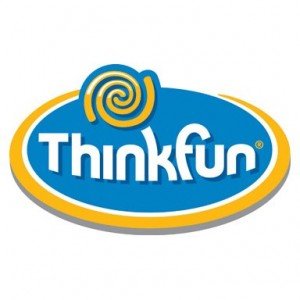 ThinkFun is a company that creates games for people of all ages. Their games are designed to challenge minds and sharpen skills through addictively fun games that build reasoning and creative thinking through play. In a nutshell their goal is to make games that are fun and addictive while challenging your mind in age appropriate ways.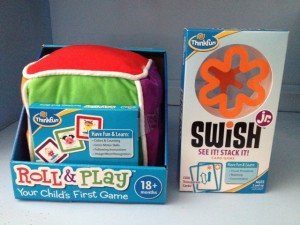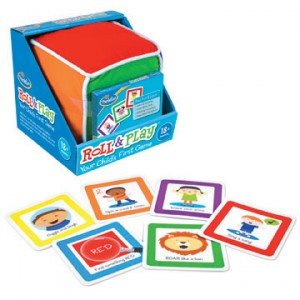 Recently we had the opportunity to review Roll & Play and Swish Jr. My children are both toddlers and was a perfect fit! It is a big plush cube with a different color on each side of the cube. You take turns rolling the cube and once the cube is rolled you pick a card that is the same color. Each color card has skills that support a different skill (counting, emotions, movement, colors, etc.). Roll & Play has been the perfect game for our family! My youngest loves that she can roll it by herself and it is a wonderful way to reinforce the skills we are working on while learning how to take turns in a fun way. I cannot say enough about this game! We have played it with several different playgroups and it has been a total hit with each one. If you have a toddler this is the perfect game for you to have! Roll & Play sells for $19.99 on the ThinkFun website.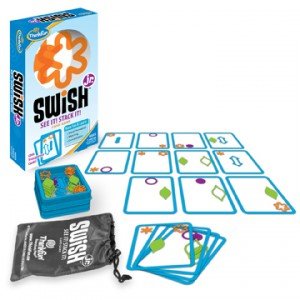 is a fast paced card game where you rotate and flip the clear cards to create a ''swish." A swish is when two or more cards can be stacked and complete a design. For example one has the outline of a leaf and the inside of a circle and the other card has the inside of a leaf and the outline of a circle. Swish Jr. definitely keeps you on your toes! We decided to play it for the first time when my parents were in town visiting. They also enjoy playing games and we had a great time figuring it out. It was more challenging at first than we thought and I really enjoyed it! I think it will be a few years before my children are ready for it but once they do I am sure they will love it. Swish Jr. is recommended for children 5 and up and sells for $12.99. Overall I was very impressed. The quality of the cards was wonderful. They were durable and thick but also easy to handle.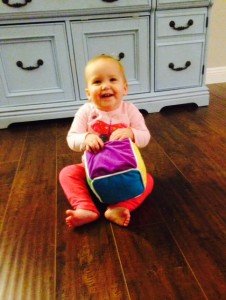 ThinkFun carries a variety of logic, toddler, junior, brainteasers, family and card games. In addition to their games Think Fun also offers Apps and that are fun and challenging for children. My favorite is Zingo! Number Bingo! My son is learning counting and number identification, which is exactly what this game reinforces in a fun way. I also appreciate that ThinkFun has special and makes it easy to find games that reinforce Common Core Math Standards. ThinkFun even offers free brainteaser puzzles by grade for grades 1-8. I wish I had known about this when I was teaching!
ThinkFun has also partnered with Asperkids to present a collection of games called: . They also offer a that makes it easier to find ThinkFun Games to fit any special needs. It is a wonderful resource for parents and therapists to choose games that strengthen specific skills.
If you are looking for a fun gift or game to play at a family gathering this holiday season think of ThinkFun and Ignite Your Mind!
FOLLOW:

You can connect with ThinkFun on , , , and .
BUY:

You can purchase ThinkFun games directly from their .
WIN:

One lucky YGTB reader will win their own set of Swish Jr. and Roll & Play. Enter below for your chance to win!



Good luck! Thank you for entering our giveaways!

Special thanks to ThinkFun for the products to review and for sponsoring this great giveaway!
All of my opinions are my own and are 100% honest.