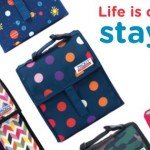 Back to school has always been one of my favorite times of the year! I love going shopping and seeing all the fun school supplies. There are so many essentials for getting ready for back to school! But lets face it; all products are not created equal. The PackIt Personal Cooler is the truly an impressive lunch box option.

The PackIt Personal Cooler keeps the contents cold without using a separate ice pack. The unique design for the PackIt Freezable Personal Cooler offer a PVC-free, BPA-Free, and lead-Free lunch bag with a unique freezer system built right in. There is no messing with leaky, damp ice packs that make your lunch soggy. I love that the freezer system is integrated into the lunchbox! It is impossible to misplace an ice pack. I especially love that you can fold up your PackIt for easy storage and it actually takes up about the same space as a standard ice pack. You simply freeze it for 12 hours and then it is good to go and will keep your food and drinks cold for up to 10 hours!
My son has been using his for over a year! We take it to preschool, on road trips, to the park, etc. It has held up so well this past year that when it was time to get a lunchbox for my daughter I knew we had to get her a PackIt too. They are so easy to wipe clean and maintain!

When I went on their website to pick out a PackIt for my daughter I was impressed with their growing selection of patters and designs. We settled on a whimsical heart pattern that is so precious! When it arrived I was impressed with the updated design! The Personal Coolers now feature a zipper, which has proved to be a wonderful addition to their already fabulous Personal Cooler. Along with having a great selection of patterns to choose from PackIt also has a wide range of styles to choose from. They have a freezable pack for everything from baby bottles to wine bottles and picnic bags.

Here in Las Vegas we are known for our hot summers. It is a real challenge when it comes to grocery shopping in triple digit temperatures, especially when I shop at multiple stores in one trip. Inevitably my groceries end up sitting in the car and I actually have had some things start to melt. When I saw the PackIt Freezable Shopping Bag I knew I had to get one to review! I got it in an adorable Zigzag pattern and I love it. The other day I fit in 2 half gallons of ice cream, two bags of chicken and a dozen eggs! Even the checkers at the grocery store were asking me about it. They thought it was impressive which is saying something since you know they see just about every kind of bag out there.
I cannot say enough about PackIt! They make back to school even cooler!
CONNECT:

You can connect with PackIt on , , and .
BUY:

You can purchase PackIt products directly from their or at a store near you. Through August 31, 2014 you can get free shipping from when you use the code SOCIALSHIP on their website.

Thank you PackIt for the items to review.
The opinions are my own, based on my personal experience with the product.