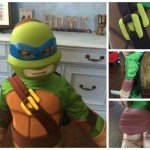 My son starts planning his Halloween costume on November 1
st
. He gets so excited about dressing up and loves wearing costumes year round. With all of the hype surrounding the it has been so much fun seeing my little guy getting extremely excited about the characters that I grew up with. When he told me that he wanted to be Leonardo for Halloween this year I knew that Anytime Costumes was the perfect place to find an amazing costume and I jumped at the chance to review one!
Anytime Costumes has been around since 1954 and I love that they have such an amazing variety of costumes for the entire family. They really have you covered with an assortment of costumes for adults, kids, babies, pets, mascots, etc.
Obviously with his love of getting into character I am familiar with usual costume quality. I hate it when the back of the costume gapes open with tiny Velcro strips placed way too far apart. Many costumes only look good from the front but not this one! I love that it comes complete with the shell, knee, elbow pieces and mask. The weapons for each Ninja Turtle are not included but that was not a problem in my book. They do sell them separately if you want to have them though.

Like most costumes, this one is hand wash only. I do wish that it were machine washable. The shell is pretty cool! The instructions say to fill it with newspaper to get the full look without adding weight but personally I preferred to use batting. All in all I was very impressed with the quality of this costume and my son is crazy about it!
Anytime Costumes has a fabulous selection of both classic costumes and the newest characters out there. Be sure to check out their selection when you are picking out costumes this year. !

CONNECT:

You can follow Anytime Costumes on or .
BUY:

You can costumes directly from their . Be sure to check their website often so that you don't miss out on their promotions! They feature them at the top of their homepage.




Special thanks to AnytimeCostumes.com for the product to review!
All my opinions are my own and are 100% honest!