This Sun-Dried Tomato Bread is one of my go to quick and easy breads that you can partner with any pasta dish or salad.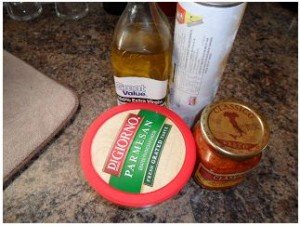 Ingredients
Olive Oil or cooking spray to coat pan
1 can of French bread dough (11-13oz)
2 Tbs. sun-dried tomato pesto
2 Tbs. Shredded Parmesan divided
Instructions
Preheat oven to 350. coat baking sheet with oil or spray.
while oven is heating roll out dough on work surface.
Spread sun-dried tomato pesto on bread.
Sprinkle with Parmesan and roll dough. Place on baking sheet seam side down.
Bake for 18-20 minutes
Let cool for 5 minutes then slice and serve with favorite meal.
http://yourgoldenticketblog.com/2015/03/sun-dried-tomato-bread/